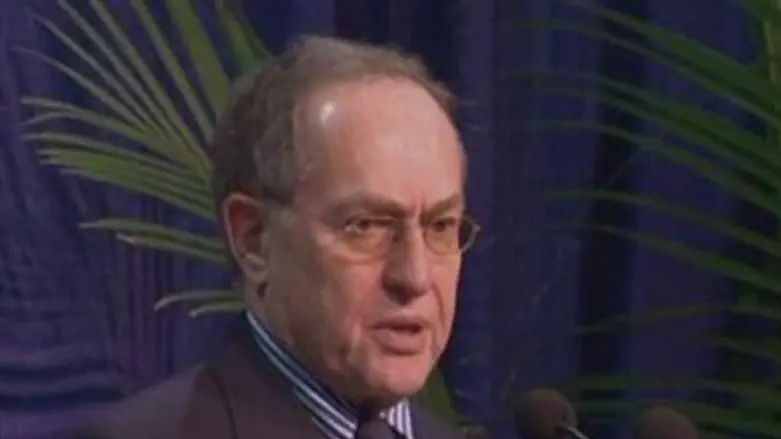 Alan Dershowitz
Begin Center Video
Harvard law professor, Alan Dershowitz, a staunch Democrat and ardent supporter of Israel, said on Monday that he has declared a personal war on the liberal media watchdog, Media Matters, for its harsh and biased coverage of Israel.
The media watchdog organization was launched to counter conservative bias in the media, but it has been widely accused of its extreme anti-Israel, and often anti-Semitic, views. Media Matters' M.J. Rosenberg, a former AIPAC staffer who is now intensely critical of the pro-Israel lobby, drew criticism for using the term "Israel Firsters" to describe American Jews who allegedly put the interests of Israel before those of the United States.
Dershowitz's campaign comes as a result of presidential officials holding regular meetings and weekly conference calls with Media Matters on campaign strategy.
At an address he gave at the University of Pennsylvania on February 2, which was intended to counter the Boycott, Divestment and Sanctions (BDS) movement of campus, Dershowtiz said, "Media Matters will be singlehandedly responsible for (Obama) losing this election. They (the Democrats) cannot win the election and keep this affiliation with them."
While Dershowitz has sharply criticized Media Matters in the past, yesterday he suggested for the first time that he intends to drive the controversy into the political conversation.
"Not only will [the Media Matters controversy] be an election matter, I will personally make it an election matter," said Dershowitz.
"I will speak to every Jewish group that invites me, and I think it's fair to say I speak to more Jewish groups than probably any other person in the world. I spoke to over a million Jews over the years," Dershowitz said. "You know, just last Thursday I spoke to 1,200;  just in the next weeks alone I'll be speaking — and in the past weeks — to thousands of American Jews. And believe me, I will not let them ignore this issue."
"I don't know whether President Obama has any idea that Media Matters has turned the corner against Israel in this way," Dershowitz told the  "Aaron Klein Investigative Radio" program on New York's WABC Radio, on Sunday.
"I can tell you this: He will know very shortly, because I am beginning a serious campaign on this issue and I will not let it drop until and unless Rosenberg is fired from Media Matters, or Media Matters changes its policy or the White House disassociates itself from Media Matters," he asserted.