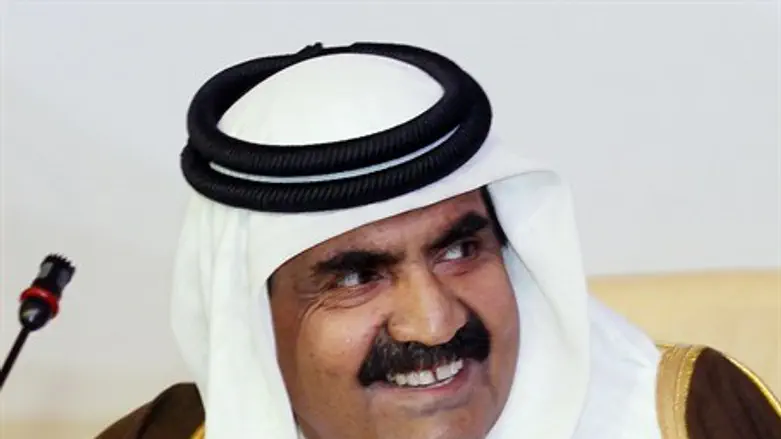 Qatar's Emir Sheikh Hamad bin Khalifa al-Than
Reuters
Qatar urged the United Nations on Sunday to investigate the "Judaization" by Israel of east Jerusalem and said that Israel's "occupation of the Palestinian territories" was unacceptable, AFP reported.
The remarks were made by the Qatari leader at the International Conference for Defense of Jerusalem being held in Doha.
"We must act quickly to stop the Judaization of Jerusalem," Qatar's emir, Sheikh Hamad bin Khalifa Al-Thani, was quoted by AFP as having said at the conference.
Sheikh Hamad also called on the UN to "investigate the measures Israel has taken to Judaize Jerusalem since its occupation in 1967."
According to the report, he warned that public opinion in the Arab world, where months of popular protests overthrew four long-time strongmen in Tunisia, Egypt, Libya and Yemen, "has awakened and will not accept" anything "less than a just peace based on the legitimate rights of the Palestinian people."
He added, "Is it conceivable that the people that could no longer tolerate oppression at home will accept the oppression of a foreign occupation?"
Speaking at the same conference, Palestinian Authority Chairman Mahmoud Abbas accused Israel of trying to remove Jerusalem's Arab and Christian character.
Abbas charged Israel with "using the ugliest and most dangerous means to implement plans to erase and remove the Arab-Islamic and the Christian character of  east Jerusalem."
He charged that Israel's alleged apartheid wall has isolated Arabs from Jerusalem and said that Arabs find it "almost impossible" to enter because of the lack of permits. In fact, thousands of Arabs from Judea and Samaria enter Jerusalem every day.
Dozens of Palestinian Authority clerics have denied any Jewish connection to the holy site, and the Muslim custodians at the Temple Mount have used backhoes and tractors to remove tons of dirt that might contain Jewish artifacts.
Abbas said, "Jerusalem belongs to all of us and no one can stop us from accessing it."
Prime Minister Binyamin Netanyahu condemned Abbas' remarks on Sunday, calling his speech "a harshly inflammatory speech from someone who claims that he is bent on peace."
"The time has come for the Palestinian leadership to stop denying the past and distorting reality," Netanyahu said. "For thousands of years Jerusalem has been the eternal capital of the Jewish People. Jerusalem, under Israeli sovereignty, will continue to be open to believers of all faiths. There is freedom of worship for all and Israel will continue to carefully maintain the holy places of all religions.
"Abu Mazen [Abbas -- ed.] knows full well that there is no foundation to his contemptible remarks, including his baseless and irresponsible claims regarding the al-Aqsa Mosque. The State of Israel expects that one who supposedly champions peace would prepare his people for peace and coexistence and not disseminate lies and incitement. This is not how one makes peace."
The conference in Doha is also being attended by at least two Israeli Arab MKs, Ahmed Tibi, and MK Taleb El-Sana. Despite them being members of Israel's parliament, they were listed as representatives of "Palestine."