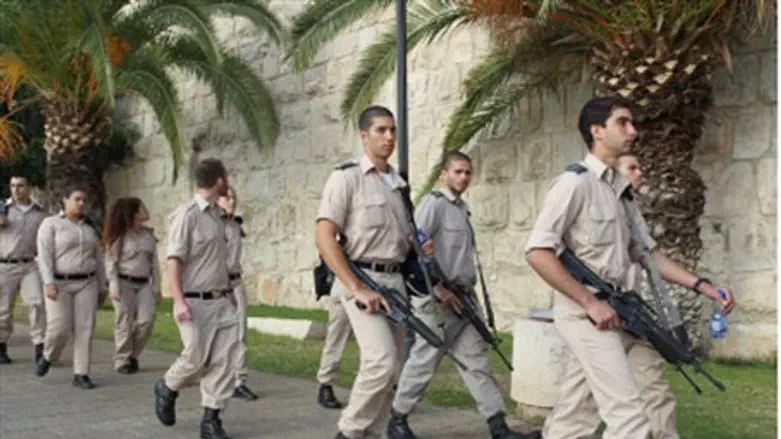 IDF soldiers.
Israel news photo: Flash 90
The IDF has created a sign language course to help commanders communicate better with deaf and hearing-impaired soldiers. The first round of the course recently ended.
A second round of the course is to begin this week with 60 participants -- three times as many as were in the first.
More than 100 soldiers in the IDF are deaf or severely hearing impaired. Deaf soldiers are integrated into regular units, where they communicate by reading lips and writing their responses.
In 2010, Captain Tal Horowitz, commander of the military school for funding and finance, had the idea of teaching commanders sign language. His idea followed a personal encounter with a deaf soldier. "I decided to learn sign language myself and start a course for the soldier's personal commanders, enabling us to fulfill her potential,"  he told the IDF website.
The course not only helps commanders interact more effectively with deaf soldiers, it empowers them by introducing them to a new form of communication, Horowitz said. "[The course] allows for an interaction with a completely different world – a world without spoken verbal interaction," he explained.
Soldiers have expressed interest in learning to sign in Arabic as well, he added, in order to communicate with deaf Palestinian Authority Arabs at checkpoints.