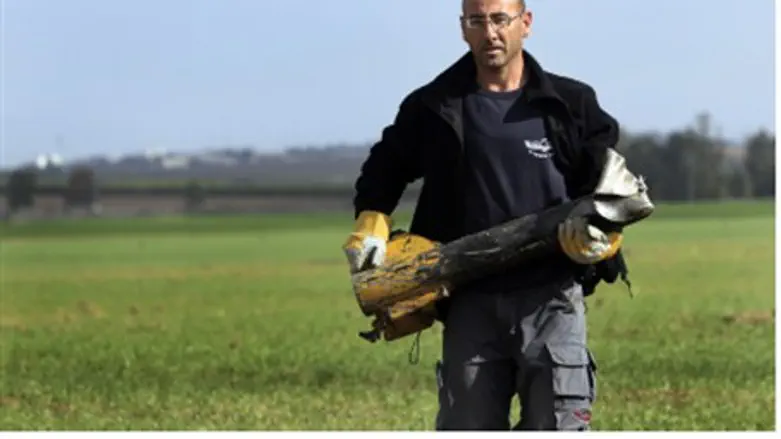 Retrieving Qassam from an open field
Israel news photo: Flash 90
A new day, a new week, and Gaza terrorists began their near-daily routine of firing short-range Qassam rockets at southern Israel on schedule as usual Sunday morning.
The first missile of the day exploded in an open field in the Eshkol Regional Council district at about 7:00 a.m. No one was physically injured, although some people suffered anxiety and trauma symptoms, and no property damage was reported. The attack was timed to maximize disruption of families' morning routines, as parents prepare their children to leave for school, and other adults prepare for work.
The Color Red incoming rocket alert siren, which activates the moment a missile is sensed, gives people in the region about 15 seconds in which to drop whatever they're doing and race for cover.
It is impossible to know when the next one will be launched, nor where it will land and whether or not will explode.
Because Qassams are relatively "primitive" and cannot be narrowly aimed, they are especially deadly as the trajectory cannot be predicted – thus an entire region is placed on alert each time one is launched.
Palestinian Authority terrorists in Hamas-ruled Gaza have been firing them at southern Israel at random times all weekend long, just as they have done thousands times since Israel's unilateral "disengagement" from the Gush Katif region of Gaza and northern Samaria in August 2005 in which over 8000 Jews were expelled from their homes.. 
More than 10,000 such rockets have been fired at Israel in the past decade, but the vast majority have been launched in the past six years, many of them from the very region where Jews once lived and thrived.
The Israel Air Force carried out an air strike overnight Saturday night in retaliation for the latest attacks. IAF fighter pilots targeted a weapons factory and a smuggler tunnel in southern Gaza, according to the IDF spokespersons' office. Direct hits were confirmed in both operations.