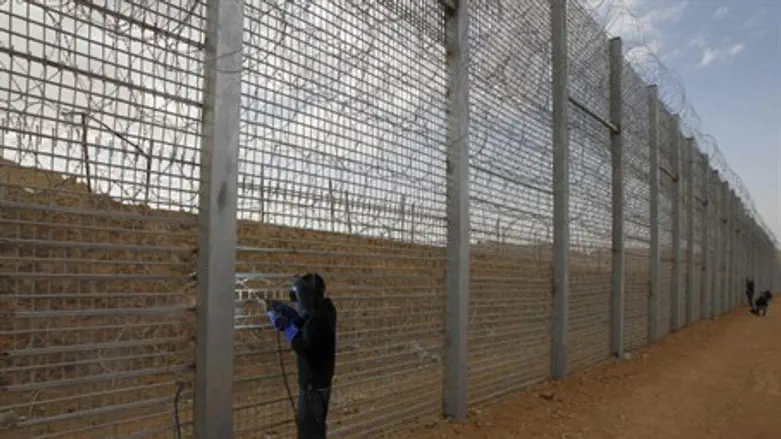 Sinai Border Fence Construction
Reuters
The IDF is expected to open on Sunday a section of Route 12 leading to Eilat for the first time since an August terror attack that killed 8 Israelis.
The army has erected a 23-foot high fence and dug ditches that run alongside the route to prevent vehicles from passing one another. 
In addition, dozens of new observation posts, equipped with security cameras, antennas and radar systems, were positioned along the road. The observation posts can monitor activity deep within the Sinai Peninsula.
The IDF also plans to erect new fortified positions along the border to protect key strategic locations, such as the Netafim crossing, 12 km. north of Eilat.
"The security situation in the area has changed drastically – at the site of the terror attack itself and the surrounding area," Edom Division Commander Brigadier General Nadav Padan told reporters.
The IDF is also investing large resources in intelligence gathering to understand which terror groups operate in Sinai.
"Our new intelligence gathering system will warn of suspicious activity, thus helping us prevent infiltrations. We took an old fence and turned it into a massive obstacle."
On Tuesday, an IDF force uncovered a powerful explosive device along the Egyptian border, not far from Gaza. In a separate incident that took place a short while later, smugglers fired an RPG at Egyptian officers.
On Thursday, IDF soldiers arrested six Arabs "near the Rafiah crossing" they suspect were trying to breach the barrier.
An explosive device was found on a group of smugglers arrested on the Egyptian border.
"Hamas is taking advantage of the situation in Sinai to send terror cells to the region," said Padan.
Israel is investing NIS 1.3 billion ($350 million) in the project.
The Egyptian military currently operates four battalions within the Sinai, which are mostly used to protect tourist sites and the gas line - a target in over a dozen terror attacks in the past year - that feeds Jordan and Israel.
Senior IDF sources say terrorists have free reign in Sinai and often operate brazenly under the noses of Egyptian security forces. This was once Israel's quiet border.
Defense Minister Ehud Barak has approved the deployment of two additional battalions for counter-terror operations, but Egyptians have yet to act on the approval required by the 1979 Egypt-Israel peace treaty.