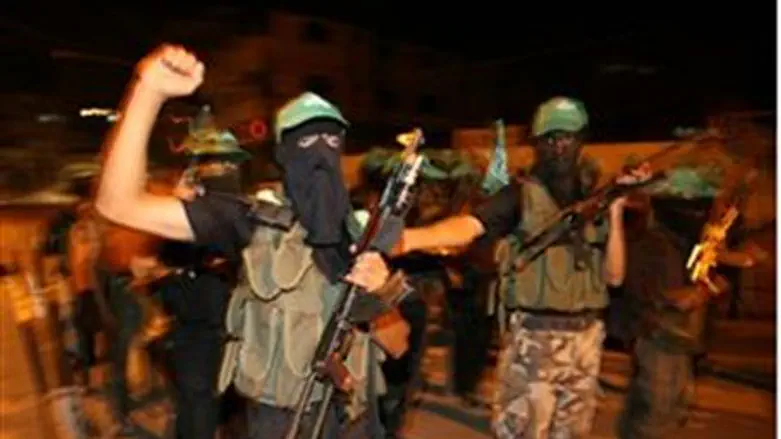 Palestinian terrorists
Israel news photo: Flash 90
An attempt is being made by the BDS movement to have a 'Global March to Jerusalem' on March 30, to coincide with the so-called "Palestinian Land Day," in a repeat of the failed Naqba Day attempt last year.
"The concept behind it is to have a million people marching on Israel's borders from all the surrounding countries – Lebanon, Syria, Jordan and Egypt," CiF Watch reported.
The BDS movement declares, "Commemorating Land Day, the Palestinian BDS National Committee (BNC) invites people of conscience around the world to unite for a BDS Global Day of Action on 30 March 2012 in solidarity with the Palestinian people's struggle for freedom, justice and equality and for Boycott, Divestment and Sanctions (BDS) against Israel."
The project's official website says:
"The march will confirm that the policies and practices of the racist Zionist state of Israel against Jerusalem and its people are a crime not only against Palestinians but against all humanity."
The CiF Watch reported that the "results are therefore likely to be grave…The leaders of the 'Global March to Jerusalem' are very much aware of [its] links to proscribed terrorist groups, and yet its endorsers include a rather predictable list of organizations and US and other nationals, including a UN employee and a former British MP." 
Israel, like any other sovereign country, cannot permit any type of attack on its borders, threatening its right to self-defense and autonomy as an independent state.
On last year's Israel independence day, or the so-called 'Naqba Day' (meaning 'catastrophe day') of the 'Palestinians', media-hyped attempts by Arabs to cross the border were stopped by Israel on several fronts. Lebanese forces prevented marchers from approaching Israel's border, so as to avoid confrontation. Only Syria aided the marchers, hoping to get their minds off its own internal rioting, yet an estimated one hundred protesters did manage to enter and were repelled. Israel has taken measures to prevent the re-occurence of a similar attack by those who associate with terrorist organizations and pride themselves on being dedicated to the destruction of the State of Israel.