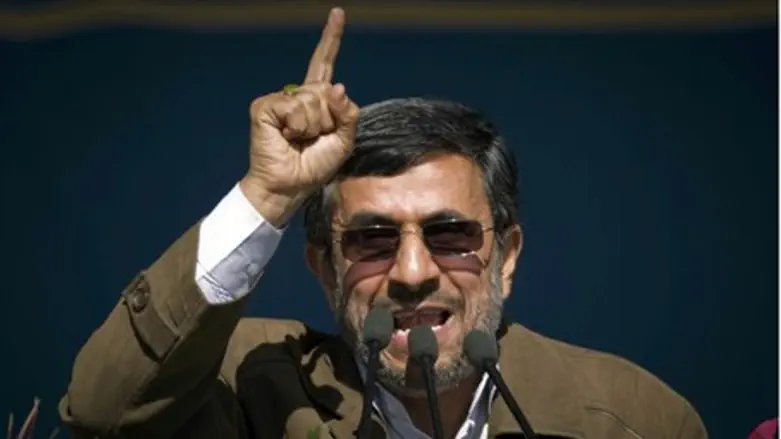 A-Jad Goes Nuclear
Reuters
Iran announced Monday it had deployed warplanes and missiles in an 'exercise' to protect its nuclear sites from attack.
Tehran also warned it could cut oil exports to more European Union nations unless sanctions were lifted. On Sunday, Iran cut oil sales to Britain and France.
French foreign minister Alain Juppe responded by mocking Iran, saying Tehran's threats "made one smile." He added that Iran was "very creative" in its attempts to "provoke" its fellow nations.
The European Union had already voted to halt imports of Iranian crude oil as of 1 July 2001. The EU has also imposed heavy sanctions on Iran's Central Bank.
EU sanctions closely mirror those imposed by the United States and are intended to force Iran to abandon its nuclear program, which is widely suspected of seeking nuclear weapons.
Late last year, the International Atomic Energy Agency published a 13-page report accusing Iran of systemic obstruction of inspectors at its nuclear facilities and seeking nuclear technologies of a military nature.
Iran, as a voluntary signatory to the Nuclear Non-Proliferation Treaty, is banned from seeking nuclear weapons and obligated to allow the world nuclear watchdog access to its nuclear sites.
Tehran has frequently accused the IAEA of enforcing a double-standard citing the widely held belief that Israel has a nuclear arms stockpile. However, Israel is not a signatory to the NPT and has no obligations to the IAEA.
Iran's announcement on Monday marked a hardening of the Islamic Republic's defiance in the standoff and a potential readying for armed conflict as tensions with Jerusalem and Washington rise.
Israeli officials have made it clear they regard an Iranian nuclear weapon as a potentially existential threat due to Tehran's repeated calls for the Jewish state's destruction. Iranian leaders have openly referred to Israel as a "one bomb state."
The moves came the same day as officials from the United Nations nuclear watchdog agency arrived in Tehran for a second round of talks focused on "the possible military dimensions of Iran's nuclear program."
Iran's military said Monday that it has launched four days of maneuvers in the south of the country aimed at boosting anti-air defenses to protect nuclear sites. Missiles, anti-aircraft artillery, radars and warplanes were being deployed in the exercise Tehran dubbed "Sarollah".
Senior military officials in Tehran also said Iran would not wait to be attacked if it "felt threatened," indicating potential pre-emptive strikes on Israel or US military forces in the Persian Gulf region.
Iran has also threatened to close the strategically vital Strait of Hormuz, which US military officials say would be an "act of war."