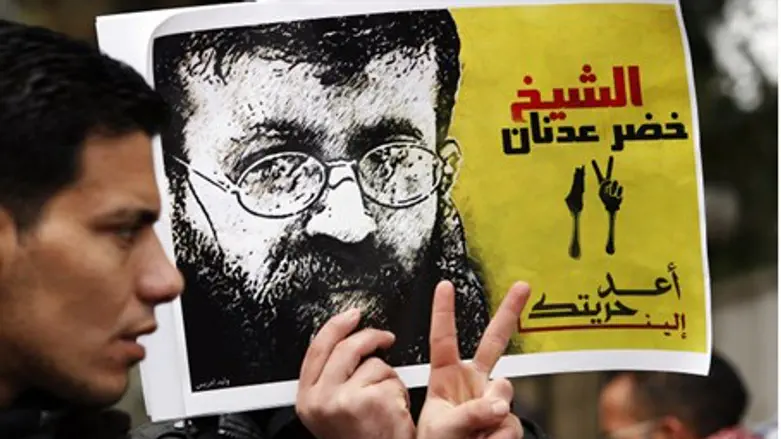 Protest for freeing terror spokesman Adnan
Israel news photo: Flash 90
Islamic Jihad leader Kahder Adnan agreed to end his 66-day hunger strike on Tuesday after State Prosecutors agreed not to renew his administrative detention order.
Adnan, held on suspicion of terror activity since 17 December 2010, will be released on 17 April 2011.
Adnan, 33, has been held in administrative detention since his arrest on the basis of intelligence data indicating he is a threat to Israel's national security.
The deal for Adnan's release was announced early Tuesday afternoon before Adnan's scheduled appeal before Israel's Supreme Court, which was cancelled at the last minute.
Deputy Knesset Speaker Danny Danon railed against the deal State Prosecutors cut Adnan saying it "set a dangerous precedent."
Danon has called for an immediate Knesset debate on the matter saying prosecutors "capitulated to terrorism" and that "this deal renders the Israeli values system meaningless."
Danon said the state "should not have a sign a deal with a terrorist, and should not give preferential treatment."
Under Israel's administrative detention laws security officials can petition the courts to order a prisoner held without charges for up to four months. The decision can be appealed to higher courts.
Doctors had reportedly warned Israeli officials that Adnan could die at any moment. But observers note Adnan was refusing nourishment of his own rational volition.
The World Medical Association maintains hunger-striking prisoners who have made a rational decision to refuse sustenance should not be force fed.
In 1975 the organization resolved, "Where a prisoner refuses nourishment and is considered by the physician as capable of forming an unimpaired and rational judgment concerning the consequences of such a voluntary refusal of nourishment, he or she shall not be fed artificially."
"The decision as to the capacity of the prisoner to form such a judgment should be confirmed by at least one other independent physician. The consequences of the refusal of nourishment shall be explained by the physician to the prisoner," the WMA maintains.
However, Adnan was taking liquid infusions of salts, glucose and minerals  – raising questions about the accuracy of pervasive media reports that his death was "imminent."
While Adnan became a cause celebre in the international media and among anti-Israel activists, little attention was given to his senior position in the Islamic Jihad terror organization. Islamic Jihad seeks the destruction of Israel and actively targets Jewish civilians.
In late January, the GSS and Israel Police foiled a shooting attack planned by an Israeli Arab in collaboration with an Islamic Jihad terror cell from Tulkarem in northern Samaria.
Last August, Islamic Jihad terrorists from Gaza were involved in the deadly cross-border ambush of an Israeli civilian bus that left 8 Israelis – 7 of them civilians – dead.
Islamic Jihad leaders in Gaza – whose terror cells are heavily involved in rocket attacks on Israel's southern communities – have been targeted with airstrikes rather than arrest and detention.