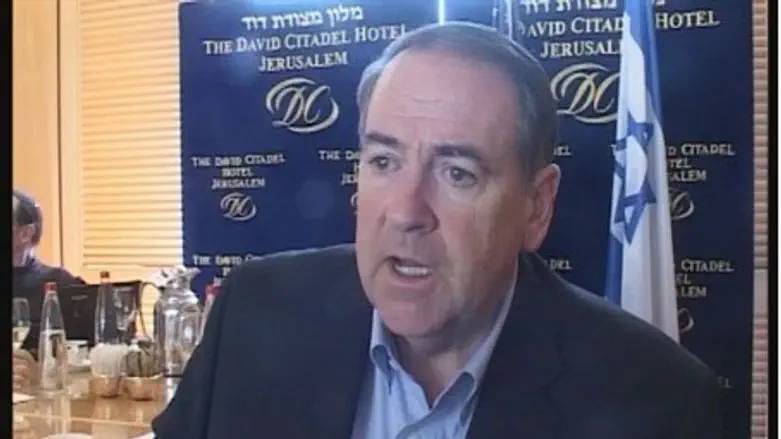 Mike Huckabee
Israel news photo: Yoni Kempinski
Former Arkansas governor and Fox News host Mike Huckabee is in Israel once again. Arutz Sheva met him on Monday.
His visit comes a little over a year after his last visit to the Jewish State, during which he said that if he were president of the United States he would move the American embassy from Tel Aviv to Jerusalem.
Huckabee considered running for the Republican party's presidential ticket, but ultimately decided not to run.
Huckabee told Arutz Sheva that he will soon bring a group of 175 Americans to visit Israel, something which he does at least once a year.
"I want people to see Israel firsthand," he said. "Most Americans simply cannot appreciate how small, geographically, Israel is, how vulnerable it is, and how much it means to have the American support so it can maintain its integrity."
He added, "The United States and Israel mirror each other in so many ways, so I want people to see Israel for all the magnificent history but I also want them to see it for all of the importance that it holds in contemporary world politics."
Addressing the race for the Republican presidential nominee, Huckabee said that it is very clear that "no one is going to win the Republican nomination without a strong, very solid commitment to not only the security of Israel, but to standing with Israel against any type of threat."
He admitted that he does not understand why most American Jews decide to vote for the Democratic party, adding that he certainly does not understand why they would vote for President Barack Obama in November's elections.
"Here's a president who has probably done more to unsettle Israel's place in the Middle East than any president in my lifetime," said Huckabee, adding, "I do think that there have been indications that maybe some American Jewish interests are finally beginning to realize that he is not their best friend, and I hope that's the case, because why they would continue to support him financially and support him politically is frankly beyond me."
Regarding a possible military strike by Israel against Iran, a strike that Israel may not coordinate with the United States, Huckabee said, "Israel has to act according to its survival."
He said that he believes "the average American, and overwhelmingly the American people" will support Israel in doing whatever it has to do to protect itself from Iran, even if the president does not agree with it.