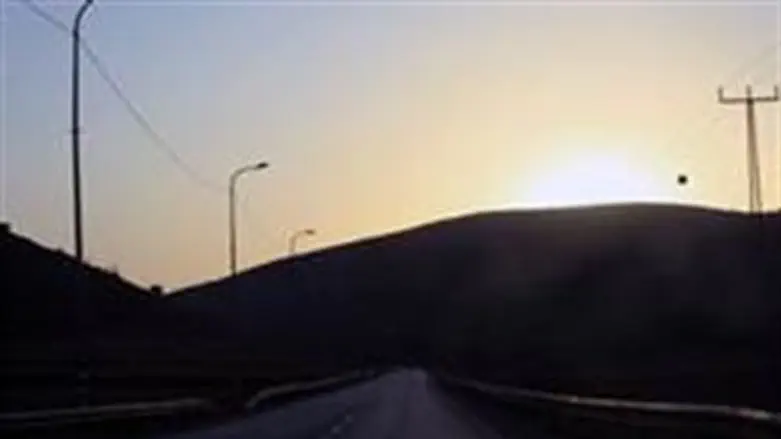 A road in Samaria
Flash90
The dangerous phenomenon of Arabs attempting to steal Jewish vehicles by carjacking on the roads of Samaria is a growing problem; Arutz Sheva hears stories about such events nearly daily.
And in an interview Sunday, Orly Ofir, a resident of Kedumim, a Shomron community 20 minutes from Kfar Saba, told about her recent experience - of being forcibly thrown from her vehicle in the dead of night, and having to walk in pitch blackness for at least 15 minutes before she was able to get help.
The incident took place several weeks ago. Ofir was returning home from her job in Ariel, via the narrow road that crossing Nachal Kana between Roads 5 and 55. A bit before the exit to Emanuel on that road, a car passed her and stopped on the road, leaving her no choice other than to stop, or to drive on the shoulder, which would have been very dangerous. "I realized what was happening, that this vehicle was not simply trying to pass me," she said.
"I tried to lock the door, but was unable to do so in time," Ofir said, describing the seconds after which an Arab emerged from the vehicle in front of her. "He banged loudly on the window and started cursing me in Arabic," she said. "I tried to pull the door closed but was unable to. He managed to pull the door open and grabbed my scarf and started choking me. All the while he was screaming at me to get out of the car. I tried to do so but couldn't unlock the seat belt. I tried to resist, but in the end he pulled me out of the car and threw me to the side of the road," Ofir said, adding that she left behind her bag and other personal effects.
Ofir was injured when the Arab ejected her from the vehicle, and she was unable to get up for several minutes. Fortunately, no vehicles drove through while she lay splayed on the ground.
After she was able to get up, she tried to get her bearings. "It was a bit after eight at night. It was dark, and there were no street lights on the road until the Emanuel junction. I started running, and tried to wave down passing vehicles. But no one stopped; perhaps they feared an Arab trap, or perhaps they didn't see me because it was dark." One vehicle that did stop was driven by an Arab, but Ofir decided not to accept the driver's offer of help. "I didn't want to take a chance," she said.
As she ran towards the Emanuel junction, Ofir said, her shoes began to fall apart – so she took them off in order to be able to continue running. As she ran, she prayed – and after about 15 minutes, she made it to the lighted junction, where a driver who realized something had happened her and stopped to help, taking her to the entrance of Emanuel.
There she reported her experiences to police – where she was told that the incident would be classified as a "criminal incident. They wanted the car, not you," she quoted police as saying.
But it was clearly far more, says Ofir. It could easily have turned to far more. "We feel like we are in the wild west here, like we are helpless," she added.