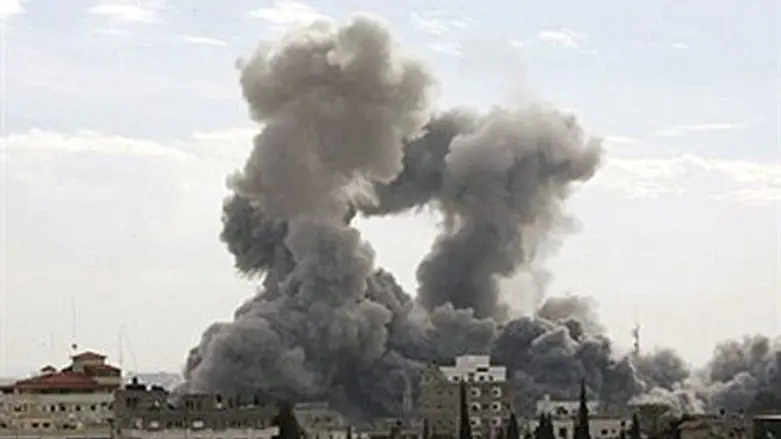 IAF Counterstrike (Gaza)
Arutz Sheva: Flash 90
Southern Israel's residents are spending the night near shelters and protected spaces, after a barrage of rockets fired from Gaza over the weekend brought about several retaliations by the IDF.
At around 10:30 p.m. (Israel time) on Saturday night, IAF aircraft attacked a rocket production site in Gaza. The IDF Spokesperson said that the aircraft scored direct hits on their targets.
The second IAF attack occurred around 1:45 a.m., this time on a terrorist base and a weapons storehouse. In this attack, as well, direct hits were scored. All aircraft safely returned to their bases.
Over the weekend, Palestinian Authority terrorists fired at least six rockets at southern Israel.
A Grad missile exploded outside the city of Be'er Sheva shortly after the noon hour on Saturday afternoon. The missile landed in an open area. No property damage was reported and no one was physically injured.
Two short-range Qassam rockets were also fired in a separate attack on the western Negev, slamming into the Eshkol Regional Council district. Both landed in open areas. No property damage was reported, and no one was physically injured.
On Friday there were several attacks on southern Israel by Gaza terrorists that prompted the IDF to move to high alert. One rocket reached the Ashkelon Coast Regional Council district. The other exploded in the Eshkol Regional Council district.
Gaza terrorists also fired an RPG (rocket-propelled grenade) anti-tank missile at IDF soldiers patrolling near the southern border on Friday evening. None of the Israeli soldiers were wounded in the attack, and IDF forces responded with tank fire.