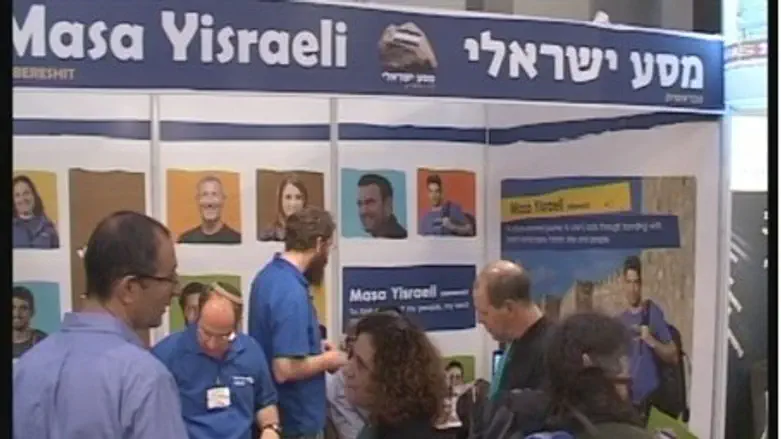 Masa Yisraeli
Israel news photo: Yoni Kempinski
The 18th International Mediterranean Tourism Market show in Tel Aviv also included a booth of Masa Yisrael - Israeli Roots Journey.
Masa Yisraeli is a six-day journey through Israel's landscapes carefully designed to awaken within Israeli youth their innate need to understand their personal connection to their history, their heritage, their people and their land.
The innovative program is already shaping the way the next generation of young Israeli men and women think about their own individual and collective identity, as well as their vision for the future. Masa Yisraeli impacts positively on the decisions they will make about where, how and for what to live their lives.
Uri Cohen, Masa Yisraeli's CEO, told Arutz Sheva that the program currently focuses on Israeli youth but is going to expand to include youths from outside Israel as well.
"The main goal of the journey is to strengthen the participants' Jewish and Zionist identity by increasing their commitment and connection to the State of Israel, to feel part of the Jewish people here in Israel," said Cohen.
He added that Israelis often "don't understand why we live in Israel," explaining that the Masa Yisraeli aims to change that.
"Through the journey they realize and find out about themselves things that they didn't realize before if they simply travelled through Israel," said Cohen. "The discussions, the councilor groups and the sessions we have with the students make it a once in a lifetime experience. It really makes a difference for those students. It's not like a regular tour at all."
In terms of the overseas students, he said, Masa Yisraeli hopes to bring Jewish high school students to Israel to take part in the journey together with Israeli students and soldiers. It is hoped that the journey will bridge the gap between Israelis and Jews from overseas, and will make everyone understand that they are all part of the same people.