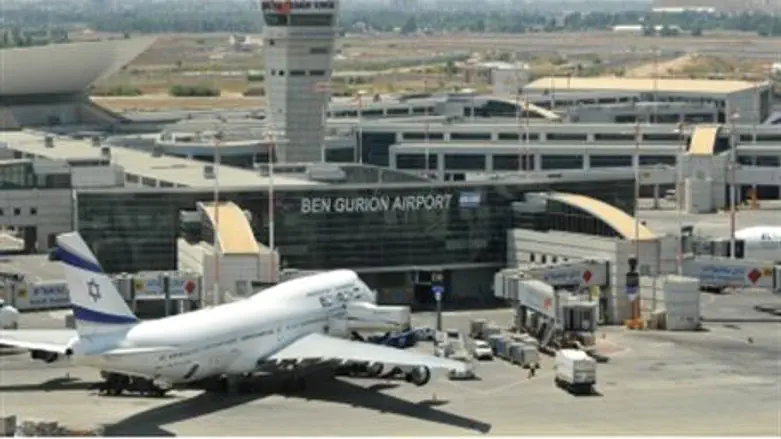 Ben Gurion Airport
Israel news photo: Flash 90
The IDF said Monday that it was opposed to converting an army base near Eilat into a new international airport, because of security concerns. The new airport at the Nevatim air base was meant to supplement capacity at Ben Gurion Airport, which although recently refurbished is already getting overcrowded. But because the base is too close to areas where the IDF conducts land and air exercises, a senior army officer told a Knesset committee Monday that it would be better to establish the airport elsewhere.
The Negev desert, especially in its the southern portion, is largely uninhabited, but it is far from "wasted" space; in land-challenged Israel, the area is mostly used for exercises by the army and air force. The area has several top-secret installations, and civilian air traffic is generally banned from the area. Nevatim is located southeast of Be'er Sheva, on the edge of the closed zone.
While commercial and charter flights coming into the new airport would follow set routes, Colonel G., an IDF official, told the Knesset Economics Committee at a discussion on the matter Monday, there was fear among top IDF brass that the setup was a tragedy in the offing – because if a plane veered off the path into restricted areas, there was a possibility that it would be attacked by IDF fighter planes, or at the very least, unceremoniously grounded.
The project has long been championed by the Ministry for the Development of the Negev and Galilee, with Transport Minister Yisrael Katz an enthusiastic advocate. Nevertheless, the IDF official said, it was better to err on the side of safety. While the IDF agreed that Israel's civilian air traffic needed more facilities, Nevatim was not the answer. Instead, the official suggested, Ben Gurion Airport could be expanded, or the airport could be established at Megiddo, in northern Israel. Or, he added, it might be a better idea to build an airport on an artificial island off Tel Aviv – another idea that has been proposed several times, but was rejected because of the cost.
MK Carmel Shama-Hacohen, chairman of the Committee, said that further hearings would be held – and that no final decision would be made until Prime Minister Binyamin Netanyahu weighed in.