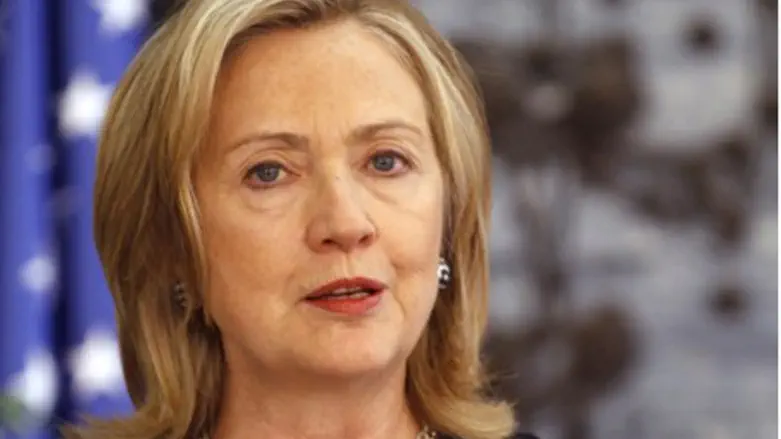 Hillary Clinton
Israel news photo: Flash 90
The United States on Sunday proposed an international coalition to support Syria's opposition, The Associated Press reported.
The proposal came one day after Russia and China vetoed a UN Security Council attempt to end nearly 11 months of bloodshed.
U.S. Secretary of State Hillary Clinton warned that chances for "a brutal civil war" would increase as Syrians under attack from their government move to defend themselves, unless international steps provide another way.
Speaking to reporters in the Bulgarian capital of Sofia, Clinton called the double veto at the UN Security Council "a travesty." Ambassador to the UN Susan Rice said after the meeting that Washington was "disgusted" by the vetoes.
"Faced with a neutered Security Council, we have to redouble our efforts outside of the United Nations," Clinton was quoted by AP as having said. She called for "friends of democratic Syria" to unite and "support the Syrian people's right to have a better future."
U.S. officials were quoted by AP as having said an alliance would work to further squeeze the Assad regime by stepping up sanctions against it, bringing disparate Syrian opposition groups inside and outside the country together, providing humanitarian relief for embattled Syrian communities and working to prevent an escalation of violence by monitoring arms sales.
The main Syrian opposition umbrella group, the Syrian National Council, backed the idea, AP reported. Radwan Ziadeh, a prominent figure in the SNC, wrote on his Facebook page that friendly countries should form an "international coalition ... whose aim will be to lead international moves to support the revolution through political and economic aid."
Meanwhile on Sunday, at least 30 civilians were killed in Syria, including five children and a woman who was hit by a bullet while standing on her balcony as troops fired on protesters in a Damascus suburb.
Government forces firing mortars and heavy machine guns also battered the mountain town of Zabadani, activists told AP.
Republican presidential candidate Newt Gingrich, meanwhile, on Sunday called for the U.S. to supply covert weapons and assistance to Syria.
In an interview with CBS' "Face the Nation," Gingrich said he thinks there are "a lot of things we could do covertly" in Syria, such as "supplying weapons... helping people in the region supply advisers. I think we should make clear to the world that Assad is going to go."
He also called for a coalition to be formed to "get rid" of Assad.
"I don't think you need to use American troops," Gingrich said. "But you do need to communicate that those who are opposed to Assad will get the kind of support they need in order to defeat him."