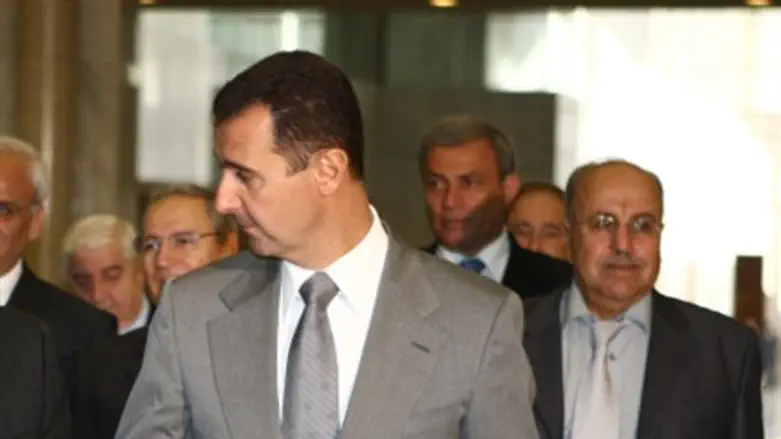 Syrian President Bashar Assad
Israel news photo: Flash 90
In a move that was decried by the U.S., France, and Arab countries, Russia and China on Saturday vetoed a U.S.-backed proposal at the UN Security Council to condemn Syrian leader Bashar al-Assed for violence against Syrian citizens. The resolution that had demanded that Assad resign was backed by the Arab League, and the League on Saturday night called on Arab countries to shut down their embassies and consulates in Syria, and remove Syrian ambassadors from their countries. U.S. Ambassador to the UN Susan Rice said that Washington was "disgusted" by the vetoes.

The vetoes followed a particularly bloody night in Syria, as Assad-controlled forces opened fire on crowds in the city of Homs, killing over 400 people. Human rights groups said over the weekend that some 7,000 people had been killed in Syria since March 2011, when the uprising against Assad began.

In response to that attack, U.S. President Barack H. Obama issued a scathing condemnation of Assad and his regime. "Assad must halt his campaign of killing and crimes against his own people now," the statement said. "He must step aside and allow a democratic transition to proceed immediately. The international community must work to protect the Syrian people from this abhorrent brutality."

The veto was slammed by  U.S. Secretary of State Hillary Clinton said that it had been "difficult to close the gaps" with Russia and China. Visibly angry, U.S. ambassador to the UN Susan Rice went further, saying that the U.S. was "disgusted" with the vetoes. "The Security Council has been held hostage for months by two member states, at least one of which is still supplying Syria with weapons," she said at the Council meeting after the vote. France's UN Ambassador Gerard Araud called the vetoes  "a sad day for the UN Security Council, a sad day for democracy and a sad day for Syrians."
Meanwhile, the Arab League called on member countries to eject Syrian diplomats, and Tunisia was the first country to comply. Tunisian officials said that the only way forward for Syria now was for the removal of Assad. "The responsibility for the events is on the Syrian government and we identify with the demands of the Syrian people for freedom and respect," a Tunisian government spokesperson said. Protests and demonstrations broke out on Saturday outside Syrian embassies in countries around the world, with protesters – many of them Arabs – demanding Assad's resignation.

Russian Foreign Minister Sergei Lavrov that Russia had been forced to veto the resolution because it was "not balanced." Lavrov is set to travel to Syria on Tuesday for talks with Assad.