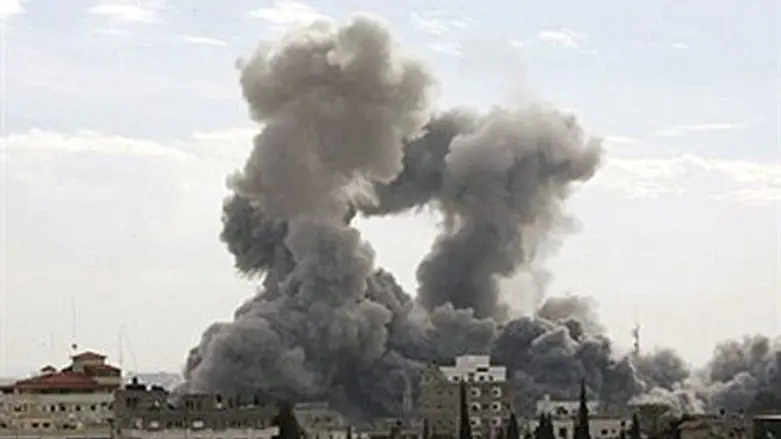 IAF Counterstrike (Gaza)
Arutz Sheva: Flash 90
The IDF responded on Thursday night to a barrage of Qassam rockets fired at Israel by attacking terror targets in Gaza.
According to a statement issued by the IDF Spokesperson's Unit, IAF aircraft struck two weapons storage facilities in northern Gaza, three smuggling tunnels in southern Gaza and a weapons manufacturing site in central Gaza.
The statement added that the aircraft scored direct hits on the targets and that in some cases, several secondary explosions were detected. All Israeli aircraft safely returned to their base.
The attacks come after terrorists from Gaza launched at least seven Qassam rockets at Israel's southern communities on Wednesday evening.
All of the rockets exploded in open fields in the western Negev. No property damage or physical injuries were reported.
Regional councils in southern Israel later said that some of the rockets had exploded in no man's land - an area not covered by the Iron Dome missile defense system.
"The residents are exposed to continuous fire throughout the year and the state does not provide them with protection," the heads of the councils said. "We demand that the government protect no man's land."
Meanwhile on Thursday, IDF Intelligence head Aviv Kochavi told attendees of the Herzliya Conference on Israeli policy that Israel's enemies had 200,000 rockets and missiles pointed at the country, and could reach all parts of Israel – even the ostensibly safe "center" of Tel Aviv and its suburbs.

Kochavi said most of the missiles have a range of about 40 kilometers, but thousands of missiles have ranges of hundreds of kilometers, making every location in Israel within their reach.