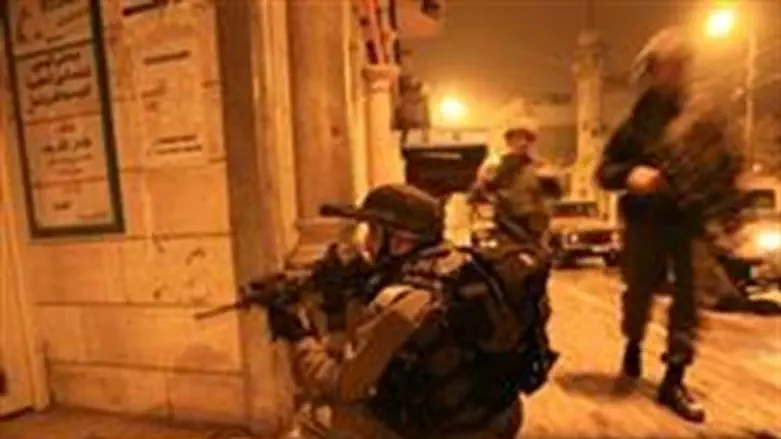 Counter Terror Operation
Flash 90
IDF forces detained five men from the village of Qalqiliya in the pre-dawn hours Tuesday morning.
Troops raided a number of houses in Kafr Qaddum, before seizing Ali Juma, 20, Ahmad Juma, 20, Aqba Obeid, 33, Majd Abu Khaled, 23, and Abdul Latif Obeid, 18, area residents told the Palestinian Authority affiliated Maan News Agency.
An IDF army spokeswoman said four were detained in the village and "taken for security questioning."
She also confirmed said six others were detained across the Judea and Amaria overnight Monday.
Kafr Qaddum is the location of weekly protests - which often turn violent - against Israel's decision to close one of the entrances to the town that passes near Kedumim for security reasons.
Qalqiliya has a reputation for being a terror haven that has spawned attack on several near-by Jewish communities.
Just two weeks ago IDF forces entered the Qalqiliya and arrested 12 suspected terrorists in the Qalqiliya village of Azzun.
In late December, IDF closed all entrances to Qalqiliya and conducted a house-to-house search after a terrorist who fired on an Israeli vehicle with a shotgun was seen fleeing there.
The arrests come as IDF counter-terrorism forces make a full court press in Judea and Samaria after several Hamas terror cells were uncovered in the region late last year.
One of those cells was responsible for the Jerusalem bus bombing in April 2011 that killed a British tourist and wounded scores of others.
Five senior Hamas members of the Palestinian Legislative Council have been arrested on suspicion of terror activities in recent weeks, as well.