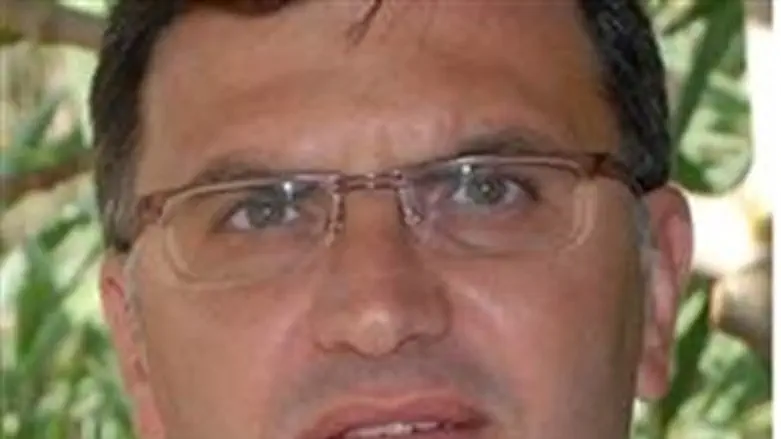 David Hatuel
Israel news photo: courtesy of Tali B'Yad Rama organization
Seven and a half years after he lost his entire family in a murderous terror attack on the road at the Kissufim crossing to Gush Katif, David Hatuel is celebrating the birth of a fourth new child following the tragedy, according to a report in the Hebrew-language Ma'ariv newspaper.
He has been blessed with three other children, as well: a daughter, Techiya, and two sons, Amichai and Shai.
"Obviously you cannot replace one family with another, but I am sure that no one would have believed that after the attack David would bring into the world four new children, in the place of his four daughters who were murdered," an acquaintance was quoted as saying in the report.
Moshe Yanai, Ashkelon municipal assistant director of education and social services, who worked with Hatuel for years, also commented, "I think that the strength of David's faith, his strength of mind and character, and his late wife's family, who really supported him, gave him the the strength to move on. I of course wish him congratulations and the best of luck on this, the birth of his fourth child."
Another acquaintance added, "David always said that he built a second house upon the first, and did not destroy the 'First Temple.' It is always before his eyes. On birthdays and on the anniversary of his first marriage, he always goes to the cemetery. Every new child born to him, he comes to the cemetery to share the news. He is a very special person, and deserves this good in his life."
David and Tali Hatuel lived in the community of Katif. Tali was a social worker, and David was the principal of an elementary school in Ashkelon.  They were parents of four daughters – Hila, 11; Hadar, 9; Roni, 7; and Merav, 2.
On May 2, 2004, Tali – eight months pregnant -- traveled together with her four daughters from Katif to Ashkelon for an obstetrician's appointment, and then to attend a demonstration against the Disengagement referendum by the Likud being held that day.
At the Kissufim crossing, two terrorists opened fire on her car, forcing her off the road. Tali Hatuel was seriously wounded in the first attack.
The terrorists, armed with Kalashnikov rifles, then approached the car and fired at Tali and her daughters at point-blank range, emptying their cartridges, until they were dead.
IDF forces were dispatched to the area, and managed to kill the terrorists. 
A joint committee of the Islamic Jihad and Popular Resistance Committees terrorist groups later proudly claimed responsibility for the attack.