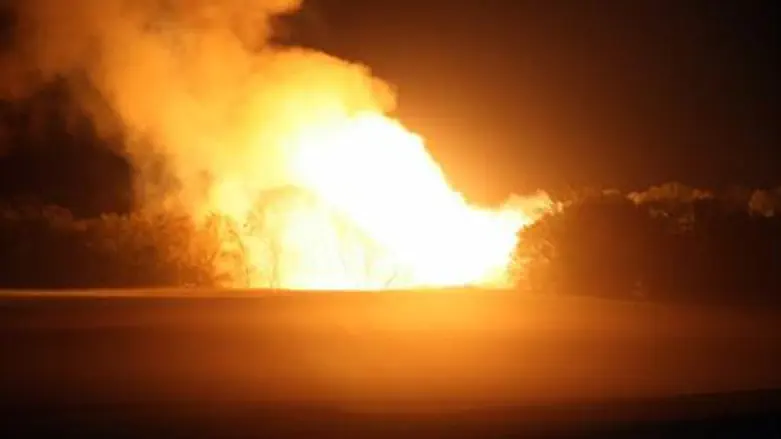 Gas pipeline explosion (illustrative)
Israel news photo: Flash 90
The Egyptian military foiled a planned attack on a natural gas plant in the Sinai Peninsula on Thursday, the Egyptian daily Al-Masry Al-Youm reported.
According to the report masked men in two four-wheel cars approached the plant, which is located 10km south of the city of El-Arish, and attempted to plant explosives, but found the armed forces and local guards lying in wait.
Eyewitnesses told the newspaper that a gunfight ensued.
The pipeline which carries gas through the Sinai and on to Israel and Jordan has been attacked ten times in the past year. The last attack took place on December 18, but may not have been as successful as the previous attack.
Egyptian officials said that it did not appear that any of the precious resource was leaking from the pipeline.
The previous attack on the pipeline took place just three weeks before the tenth attack.
In late December, Egyptian security officials arrested a man in connection with the repeated attacks.
Al-Masry Al-Youm reported that a group calling itself Ansar al-Jihad has said it was responsible for the attack on December 18. In an Internet message, the group said it was loyal to the teachings of "the martyr Osama bin Laden."