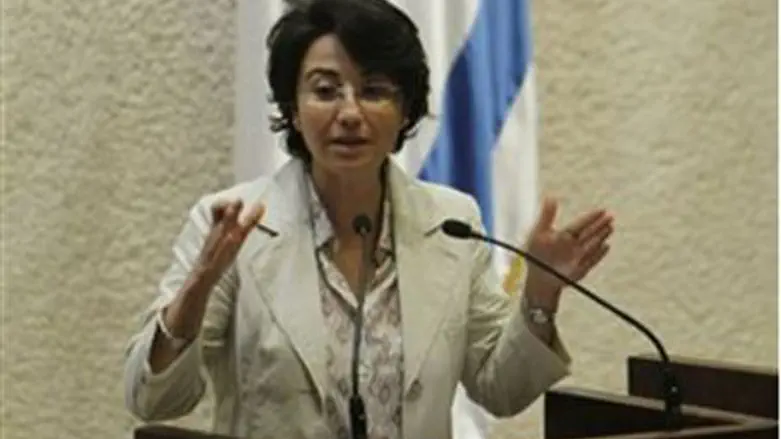 MK Zoabi
Israel news photo: Flash 90
In her most recent attack against the State of Israel, Arab MK Haneen Zoabi (Balad) wrote the foreword to Ben White's newly released book entitled, "Palestinians in Israel: Segregation, Discrimination and Democracy."
Ben White, notorious for his anti-Zionist and anti-Semitic agenda, is against Israel's definition as a Jewish state and has authored Israeli Apartheid: A beginner's Guide as well as other books and articles, all of which accuse Israel of implementing policies of "apartheid," "racism" and "ethnic cleansing." His works reflect his stated belief that Herzl's dream of re-establishing a Jewish State in the Land of Israel has "shattered" Palestinian society.
Ben White's book received endorsements from Professor Ilan Pappe, author of The Ethnic Cleansing of Palestine, Omar Barghouti, "human rights" activist and author of Boycott, Divestment, Sanctions," Mohammad Zeidan, director of The Arab Association for Human Rights, Jonathan Cook, author of Disappearing Palestine, as well as other journalists and activists, all of whom seek to strip Israel of her rights, legitimacy and credibility.
MK Haneen Zoabi, of the Balad Israeli Arab political party, has a long history of anti-Israel activities, which include her being on board the Mavi Marmara flotilla, describing the State of Israel as "inherently racist," refusing to sing the Israeli national anthem, Hatikva and maintaining ties with Hamas. Ben White's agenda, which coincides with Zoabi's, attempts to cast Israel as an international pariah.
In response to Zoabi's foreword, MK Danny Danon (Likud), stated in an interview with Arutz 7, Monday afternoon that, "Arab MKs are competing among themselves to see who is more radical and who can hurt Israel more. Israeli democracy must take proactive measures to defend itself from the enemy within." MK Danon asserted, "The place of MK Zoabi is not in the Israeli Knesset but behind bars."
As has been noted before, the fact that Haneen Zoabi serves as a member of the Israeli Knesset provides evidence against the very arguments she  tries to prove. If, as White states, Israel does, in fact, "implement an apartheid regime of exclusion and discrimination," why, then, is Zoabi not only able to serve in the Israeli parliament, but is also able to abuse these rights by directly undermining and opposing the very ideas upon which the state was established?