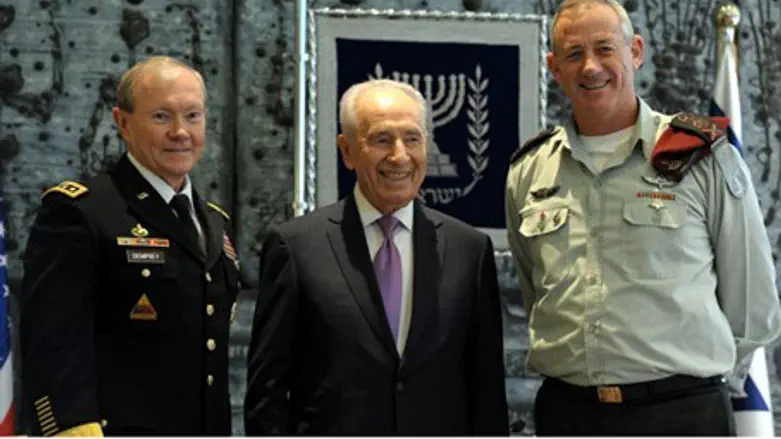 Dempsey, Peres and Gantz
Israel news photo: Flash 90
As part of his round of meetings in Israel, U.S. Chairman of the Joint Chiefs of Staff Martin Dempsey met with President Shimon Peres on Friday morning.
The two discussed the recent political and security developments in the Middle East and in the world. The meeting was also by attended by IDF Chief of Staff, Lt. Gen. Benny Gantz.
During the meeting, Peres addressed the Iranian issue and told Dempsey, "I'm sure that in this fight (against Iran) we will emerge victorious. It is a fight that does not belong exclusively to the U.S. or Israel, but a global struggle to create a safe world for all peoples."
He emphasized that Iran is "the center of world terror! It funds the most dangerous terrorists in the world and carries out terrorist acts which take the lives of innocent people. Iran seeks to control not only the Middle East, but other parts of the world as well, as is illustrated by its attempts to penetrate the South American continent."
The President also addressed the relations between Israel and the U.S. and said, "It is a privilege to be allies of the United States. We appreciate your coming here. This is an incredibly important time to show that we join hands in fighting this phenomenon which endangers the entire world. The State of Israel has the greatest respect for the United States, its democratic institutions and its army, because you are the first army in history which fights for values ​​like human freedom, and not only for the United States."
Peres added, "Two camps exist today, the peace camp and the camp which represents hegemonic ambitions for regional dominance. On this issue, I believe that the U.S. and Israel stand together."
Dempsey thanked Peres for meeting him and added, "I'm visiting Israel as the guest of Chief of Staff Benny Gantz in order to discuss the common challenges out of the belief that we can protect the values ​​of freedom. I assure you that the U.S. is Israel's partner and it is an honor for us to find our partner in Israel. I held, together with the Chief of Staff, a series of meetings to ensure the continued cooperation both in the region and internationally."
Earlier on Friday, Dempsey stressed "mutual commitment" ahead of a round of meetings with Defense Minister Ehud Barak and Gantz.
"My presence here, I hope, reflects the commitment we have for each other," Dempsey said. "I'm here to assure you that's the case."
Dempsey also met with Prime Minister Binyamin Netanyahu and other senior officials in the IDF.
(Arutz Sheva's North American Desk is keeping you updated until the start of Shabbat in New York. The time posted automatically on all Arutz Sheva articles, however, is Israeli time.)