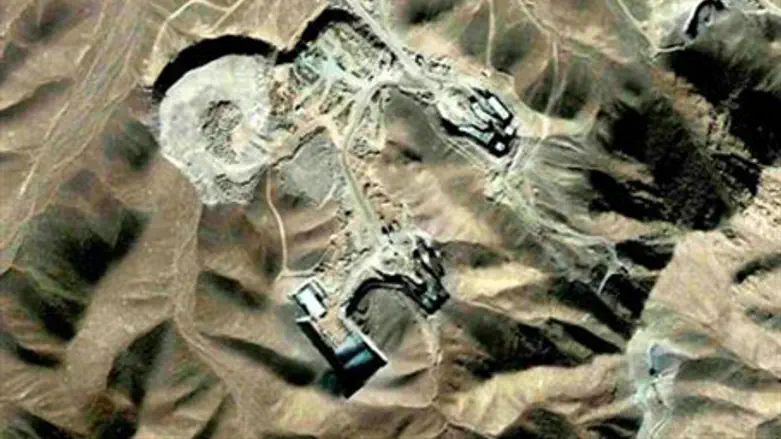 Iran's Qoms nuclear site
Israel news photo: NASA
Yukiya Amano says Iran has failed to clarify its atomic development activities to the satisfaction of the United Nations nuclear watchdog body  -- and now it's his job to warn the world about its possible military intentions.
Amano, chief of the United Nations International Atomic Energy Agency, said Thursday in an interview with the German-language Financial Times Deutschland an IAEA delegation will press Iran for "full cooperation" in meetings with officials in Tehran.
"What we know suggests the development of nuclear weapons," FTD quoted the IAEA chief as saying "We want to check over everything that could have a military dimension." 
The IAEA released a report in November 2011 saying it had credible intelligence that Iran is seeking nuclear weapons technology. "The agency has serious concerns regarding possible military dimensions to Iran's nuclear program," the report stated.
The U.N. agency now plans to send the delegation to the Iranian capital on January 28, following an announcement last week by Iran saying that it was ready to discuss allegations that it has been involved in secret nuclear weapons development.
Also last week, Iran rejected concerns expressed by Western nations about its new underground uranium "medium-level" enrichment plant, dismissing the reactions as "politically motivated." Iranian envoy to the IAEA Ali Asghar Soltanieh claimed the Fordow nuclear site near Qom is operating under "full supervision" of the Vienna-based nuclear watchdog agency.
Iran began to move its nuclear materials and development plants underground in November.
In December 2011, a report published on The Nuclear Iran website warned that Iranian scientists had succeeded in producing 20 percent pure uranium to supply a nuclear reactor, relying on domestic expertise and technology.