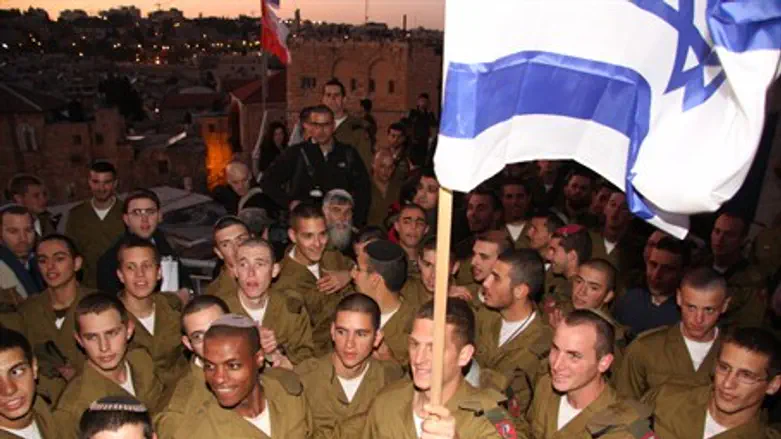 Lone soldiers in Jerusalem
Israel news photo: Ateret Cohanim
A group of 90 lone soldiers, who arrived at the Western Wall in the Old City of Jerusalem for their swearing-in ceremony last week, was hosted by the Ateret Cohanim organization.
Ateret Cohanim is an organization which works to strengthen Jewish roots in and around the Old City, and wished to salute these lone soldiers and try to be their "home away from home" when they are in Jerusalem.
In many or most cases, lone soldiers don't have the family network or support system that Israeli boys have in Israel. As such, the army itself, the Friends of the IDF and organizations like Ateret Cohanim try to help these lone soldiers in whatever way possible.
For the past few months, as various IDF groups finished off their basic training and came to the Kotel for their swearing in ceremony, Ateret Cohanim simply took on the role of being the lone soldiers' "Jerusalem parents."
Ateret Cohanim meets the soldiers on their way into the Old City, takes them to a special vantage point with a spectacular lookout inside the Old City (in the old Jewish Quarter) and then gives them a free and delicious meal at a restaurant. The soldiers also receive a modest gift.
Last Thursday, a group of 90 soldiers once again took part in this uplifting act of kindness and appreciation before their ceremony at the Kotel. This motivated group of soldiers sang songs of Israel, Zionism and G-d as they walked through the Old City. They raised flags and sang the national anthem, Hatikvah.
For one of the lone soldiers, originally from Miami, it was a very special and yet emotional occasion as his grandfather had passed away that week. His grandfather, who himself fought in the early wars of Israel's survival, had lived through Nazi war-torn Europe, picked up the pieces of his life and built a large, idealistic and truly Zionistic family, an empire based on love of the Land of Israel and its people.
Meanwhile, Israel's mainstream media outlets were unhappy with the program, choosing to condemn Ateret Cohanim for taking the soldiers to the Old City's Muslim Quarter instead of lauding its caring. The media chose to ignore the fact that all of reunited Jerusalem has been part of Israel since the 1967 Six Day War and that the term "Muslim Quarter" was coined by the British during the post WWI mandate, when Jews lived in all parts of the Old City.
One report termed the visit to the Muslim Quarter as "provocation", although it noted the visit ended without incident.
Ateret Cohanim hosts lone soldiers in Jerusalem. Photos by: Ateret Cohanim