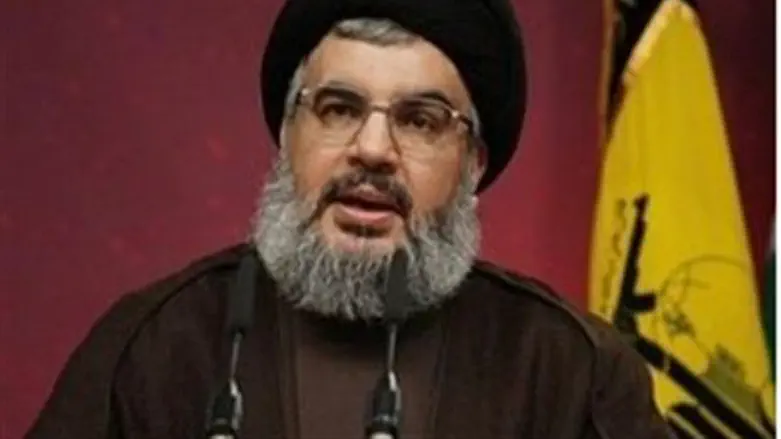 Hizbullah chief Hassan Nasrallah
Israel news photo: Al Manar TV
Lebanon-based Hizbullah chief Hassan Nasrallah has rejected a call by visiting United Nations Secretary-General Ban Ki-moon for his terrorist organization to disarm, saying "The resistance is here to stay."
Ban told a news conference Friday after meeting with Lebanese leaders, "I am deeply concerned about the military capacity of Hizbullah and... the lack of progress in disarmament," referring to the requirement for the terrorist group to disarm set forth in the ceasefire agreement with Israel that ended the 2006 Second Lebanon War. Instead, Hizbullah has increased its weapons arsenal to a level beyond that which it had prior to the war.
"That is why we discussed this matter very seriously and I strongly encouraged President [Michel] Sleiman to initiate a convening of this national dialogue to address these issues... All these arms outside of the authorized state authority -- it's not acceptable," Ban stated. The U.N. leader is expected to end his three-day visit to Lebanon by Sunday.
Soldiers from the U.N. Interim Force in Lebanon (UNIFIL) were attacked three times last year, with a number of Italian and French troops wounded. Also in the past year, two rocket attacks were launched against northern Israel as well, both times sparking concern that a major conflict might again be ignited. Hizbullah denied responsibility in each case.
Nasrallah responded to Ban's statement with one of his own in a televised speech on Saturday, commenting with some sarcasm, "I felt happy when I heard that he said he was concerned about our military power... This 'concern' reassures and pleases us...
"We do not care if the United States and Israel are concerned," he added, vowing that "resistance, army and the people are the only guarantee" to keep Lebanon safe. We confirm that our choice is the path of resistance and the arms of the resistance," he said, according to the Naharnet news website. "The resistance is here to stay. Its power, its readiness, will continue to grow."
Hizbullah has exponentially increased its influence over the country, and in the government since its war with Israel, and at present is represented by a sizeable faction in the parliament. It also comprises a significant number of ministers in Lebanon's Cabinet.
In addition, Hizbullah has expressed strong support for the Assad regime in Syria. "We call on the Syrian opposition to abide by [Syrian President Bashar] al-Assad's demands to engage in dialogue and cooperate with him to introduce reform that would resolve the country's problems," Nasrallah said.