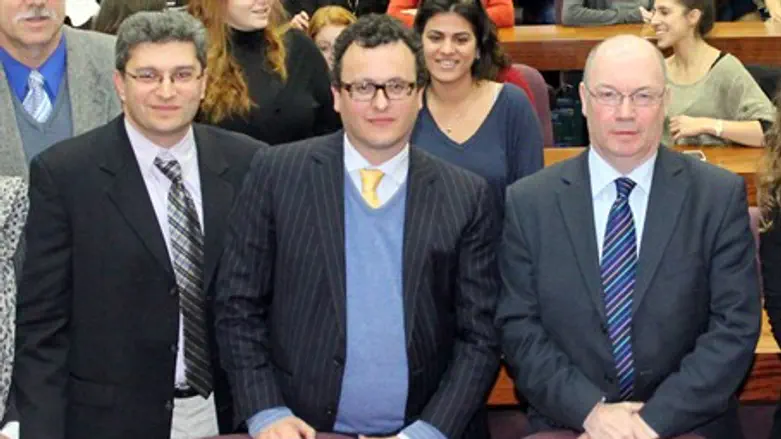 UK Minister Burt at BIU
Yoni Reif
A British Minister on Tuesday kept up his nation's mantra that Israeli construction is a material bar to final status talks between Israel and the Palestinian Authority saying it is "counter productive."
British Minister for the Middle East and North Africa Alistair Burt's comments came one day after a round of talks between officials from Jerusalem and Ramallah in the Jordanian capital of Amman.
Addressing a group of Bar-Ilan University political science students this afternoon, Burt said "Many will argue that now is not the time to make bold gestures.  My advice is if you want stability, security and peace with your neighbors, and the best relations with the rest of the world, then making a deal with the Palestinians is urgent."  
Burt also said that the building of settlements beyond the so-called 'Green Line' is counter-productive and insisted Jerusalem would have to be divided. Observers say Burt's comments carry a characteristic British undercurrent of criticism for Israel while remaining pointedly silent on the abject refusal of PA officials to come to the table for two years running.
PA officials have set preconditions known to be unacceptable to Israel as a fait accompli for forestalling talks that would require concessions they have no prepared their public for. These include a release of all Arab terrorists from Israeli prisons, a renewed building freeze in Judea and Samaria, and the pre-1967 lines as a starting point for talks.
Israeli officials say they are ready to negotiate without preconditions from either side at any time. A previous 10-month building freeze by Israel, they note, resulted not in renewed talks but additional preconditions - and PA unilateralism.
PLO officials in recent weeks have said they have moved to include the Hamas terror organization in their ranks while saying they are not interested in cooperation with Israel. Instead, PLO officials have adopted "a strategy based on continuous efforts along with the international community to secure full recognition and full United Nations membership, pursuing internal reconciliation, and keeping up the popular resistance."
While they have not defined "popular resistance," regional observers note Article 9 of the PLO charter continues to assert, "Armed struggle is the only way to liberate Palestine. This it is the overall strategy, not merely a tactical phase."
Mieanwhile, Burt indicated his country will continue to drive forward international efforts in 2012 to stop Iran from acquiring a nuclear weapon.   He said his government recently imposed some of the toughest sanctions yet on Iran, and expressed confidence that these sanctions would work.  He added that no option is being taken off the table, and that the UK is working closely with Israel on this issue.
Steering away from political issues, Burt said 2011 had been a key year for UK-Israel bilateral relations in trade, and research and development. He reassured the audience that British universities are not hostile toward Israel, and urged students thinking of studying abroad to study in the UK.  
The session was moderated by Prof. Amikam Nachmani, Chairman of Bar-Ilan University's Department of Political Science.  Dr. Jonathan Rynhold, Director of the University's Argov Center for Israel and the Jewish People, dedicated the session in memory of Israeli diplomat Shlomo Argov, who was shot by terrorists in an attempted assassination while serving in his post as Israeli ambassador to the United Kingdom.