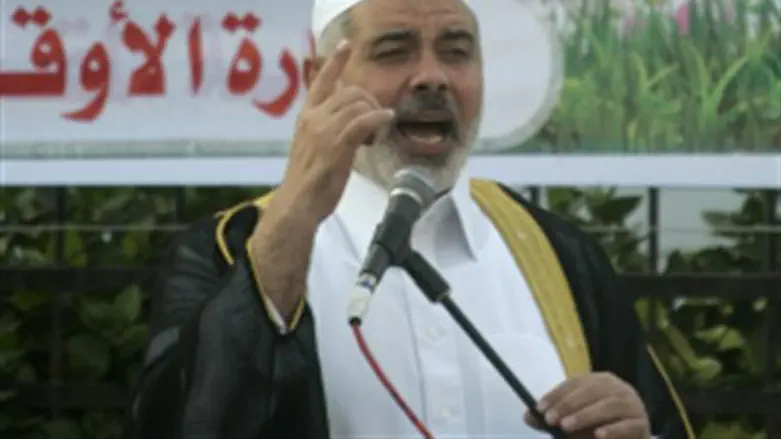 Ismail Haniyeh
Israel news photo: Flash 90
Hamas chief Ismail Haniyeh said support for "Palestine" should be a "religious and nationalist commitment" for Arabs as he arrived in Tunis Thursday.
"Palestine is not a banner that we brandish like nobody's business. It's a religious and nationalist commitment," Haniyeh said after a meeting with Tunisia's moderate Islamist prime minister, Hamadi Jebali.
"We have suffered from an economic and political blockade, and former governments have neglected us, but Tunisia has given justice to Gaza" by inviting Hamas, Haniyeh said.
Haniyeh is in Tunisia as part of a six-country tour - his first trip outside Gaza since Hamas seized the coastal enclave in a bloody putsch since 2007.
Haniyeh has already visited Egypt, Sudan and Turkey, with Bahrain and Qatar also on his itinerary.
The tour is aimed at raising funds to rebuild Gaza City, his office said. Political observers say it is also aimed at selling Hamas as born-again pragmatists to the Islamist parties coming to power in the Arab world by touting its decision to join the PLO and form a unity government with Fatah.
Despite the thin veneer of pragmatism, however, Hamas remains committed to the destruction of Israel and opposes any contacts with the Jewish state in the name of "resistance".
While Haniyeh has reportedly enjoyed some success in establishing diplomatic ties, his fundraising drive and vision of "Palestine" as a "religious commitment" has been harder to sell to newly-empowered Islamist parties tasked with massive government reforms and overcoming desperate economic forecasts.
The United States, who along with Israel and the European Union has blacklisted Hamas as a terror group, has offered billions in aid to countries like Tunisia and Egypt on condition they respect human rights, lean Westward, and aid in the war on terror.
Both Hamas and the Palestinian Authority have had difficulty raising funds amid the global economic downturn with Arab donors failing to meet their pledges for aid causing hundreds of millions in shortfalls for the rival factions.
Observers note Egypt's ultra-conservative Salafist al-Nour party set the tone for the Arab world's reaction to Haniyeh's revival tent call for "religious commitment" to Hamas' cause when it said diplomatic contacts with Israel - and maintaining the 1979 Egypt-Israel Peace Treaty - were "not contrary to Islamic principles."
Islamist leaders and their voters, observers say, are unlikely to let deeply anti-Israel sentiments get in the way of dollars and cents.