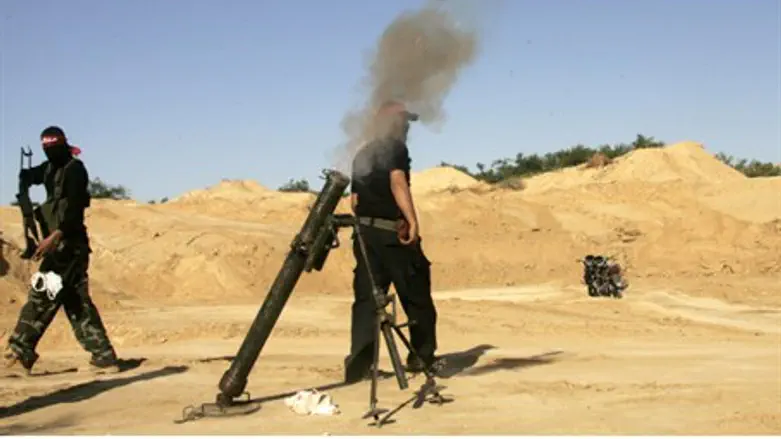 Terrorists fire mortar shells
Israel news photo: Flash 90
Terrorists fired an average of nearly two missiles a day at Israel in 2011. In the course of the year, 680 rockets, mortars and Grad missiles were fired at southern Israel, according to data compiled by the Home Front Command and reported on the IDF Website.
Eighty Grad missiles were fired at Israel in 2011, compared to two the previous year. Grads have a longer range and a more lethal explosive payload than other rockets fired at Israel.
Thirty percent of all rocket strikes in 2011 took place during three periods of escalation, totaling around 15 days overall. Five rockets fell on or near buildings in Israel.
 The Home Front Command's Southern District continued to upgrade the warning system for the residents of southern Israel. In addition to the siren system, the Home Front Command is working to improve mobile phone, internet and television warning systems. 
"Since Operation Cast Lead, the sirens have been improved and today they work much better," said a senior Home Front Command official.
The official said that the plan to reinforce homes within 4.5 kilometers of Gaza and educational institutions within seven kilometers of the border is partially complete and that within two years all educational institutions within 15 kilometers of the border will be fortified.