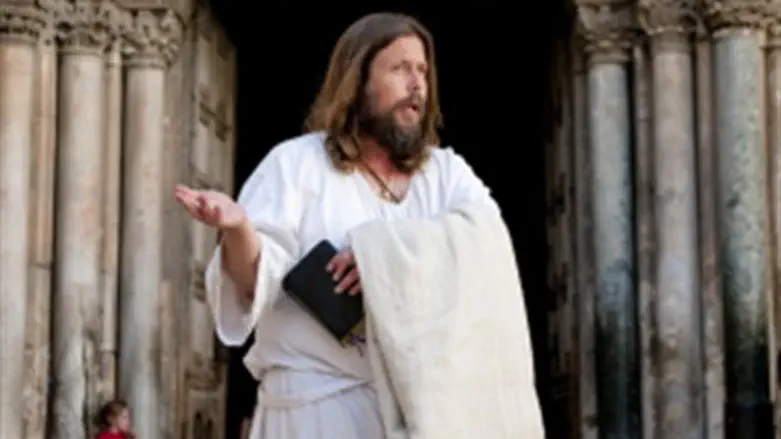 Missionary James Joseph, aka 'the Jesus guy'
Israel news photo: Flash 90
As part of a Christian missionary campaign, hundreds of thousands of Jewish homes have recently received blue pamphlets that contain missionary material. Kfar HaRo'eh – a religious community in north-central Israel that is named for Rabbi Avraham Yitzchak HaCohen Kook – was also targeted, but its leadership decided that the pamphlets must not be allowed to reach residents' homes.
Eitan Kupferberg, secretary of Kfar HaRo'eh, told Arutz Sheva that the local mail distributor contacted him last week and said that she had received a shipment of pamphlets and that she was obligated to distribute them, as distribution fees had been paid. "She came to me, fearful and trembling, and it turned out that along with the pamphlets she received a document that said that according to section 90a of the law we are obligated, as the ones responsible for distribution, to distribute the said product."
The "said product" turned out to be small blue pamphlets with missionary content.
The community's rabbi, Rav Eliezer Weiss, was consulted. Kupferberg also spoke with the legal advisor of the Israel Postal Company branch in Hadera, who confirmed that the law compels him to distribute the pamphlets or face a fine, or even imprisonment.
In response, Kupferberg had the residents sign a document in which they collectively announce that they refuse to receive the mailing. He then sent the shipment back with this document, and a letter that states that the missionary material itself is illegal and ignores the character of the community at Kfar HaRo'eh, which is a symbol of the religious Zionist movement.
The pamphlet's distributors sent another letter, a few days later, with a warning regarding possible legal action. Kupferberg says he prefers to "give them time to think again."
"In our community, we have decided to stand like a fortified wall," he explained. "The pamphlets were not distributed. We told them that they are welcome to take them from here. Period, end of story."