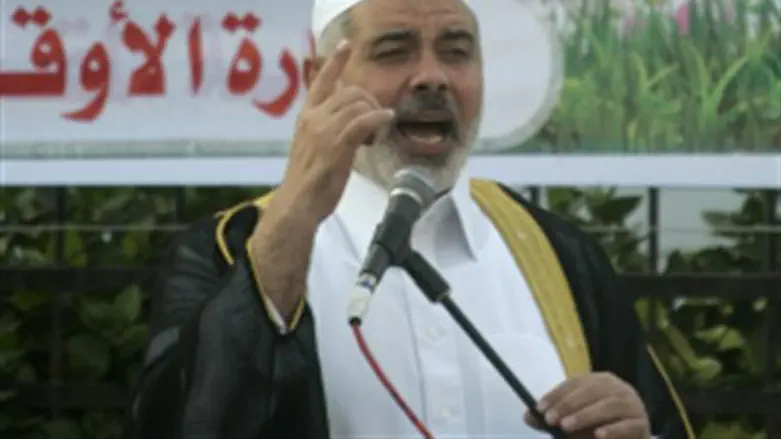 Ismail Haniyeh
Israel news photo: Flash 90
As the Hamas terror group recently marked the 24th anniversary of its founding, its leader in Gaza used the opportunity to remind everyone of his group's real goals.
At the ceremony, Hamas' Prime Minister Ismail Haniyeh said that Hamas may work for the "interim objective of liberation of Gaza, the West Bank, or Jerusalem," but added that Hamas' long-term "strategic" goal is to eliminate all of Israel.
Haniyeh's speech was broadcast on Hamas' Al Aqsa TV and it was translated and presented by the Palestinian Media Watch research institute.
In the speech Haniyeh said, "The armed resistance and the armed struggle are the path and the strategic choice for liberating the Palestinian land, from the [Mediterranean] sea to the [Jordan] river, and for the expulsion of the invaders and usurpers [Israel]... We won't relinquish one inch of the land of Palestine."
He also promised that Hamas will "lead Intifada after Intifada until we liberate Palestine - all of Palestine, Allah willing. Allah Akbar and praise Allah."
Palestinian Media Watch noted that two days later, Palestinian Authority Chairman Mahmoud Abbas contradicted Haniyeh's statements and said that Hamas leader Khaled Mashaal had agreed that "there will be no military resistance" and that "the permanent solution is on the '67 borders [1949 armistice lines –ed.]." 
Mashaal himself made similar comments last week, saying that for the time being the organization intends to focus on popular protests in the spirit of the Arab Spring, rather than armed resistance against Israel. Hamas' co-founder Mahmoud al-Zahar later confirmed this.
The comments were made after reconciliation talks between Fatah and Hamas had taken place in Cairo. The talks resulted in an announcement that Hamas, Islamic Jihad, and other terror factions would be joining the PLO.
Meanwhile, Haniyeh called on Arab leaders to stop the 'Judaization' of Jerusalem on Tuesday.
Haniyeh's call for Arab leaders to pressure Israel into not asserting its sovereignty in its eternal and indivisible capital came from Cairo, where he kicked off his whirlwind tour of  Egypt, Sudan, Qatar, Bahrain, Tunisia, and Turkey.