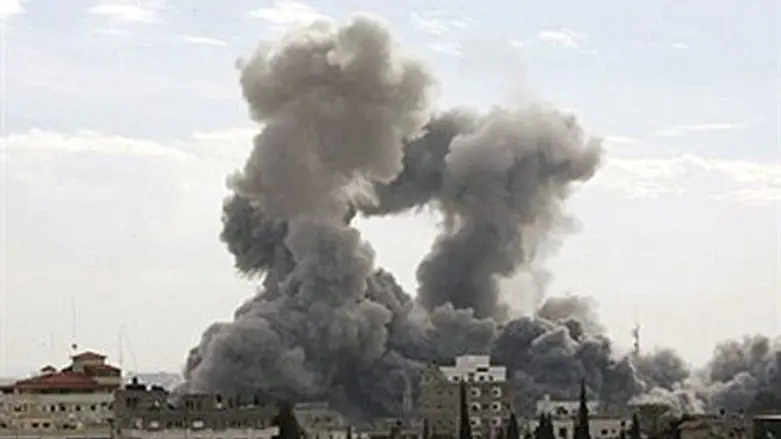 IAF Counterstrike (Gaza)
Arutz Sheva: Flash 90
For the second time in several hours, the IAF struck late Tuesday evening a Global Jihad terrorist cell that was preparing to carry out a terror attack against Israelis.
The IDF Spokesperson said in a statement that the terrorists were struck down in a joint IDF-Israel Security Agency (ISA) operation. The statement added the terrorists were planning an attack along Israel's border with Egypt.
One of the terrorists in the group was identified as Rami Daoud Jaber Kafarneh from Jabalia. Kafarneh, a former member of Hamas' military wing, took part in recent rocket and mortar firing from Gaza toward Israel.
A second terrorist has been identified as Hazam Muhammad Saadi Alshaker from Beit Hanoun. Alshaker, according to the IDF statement, was part of a terror cell that operated in Gaza and planted explosives in the area. The statement said that the IAF scored direct hits against its targets.
"The IDF will not tolerate any attempt to harm Israeli civilians and IDF soldiers, and will operate against anyone who uses terror against the state of Israel," the statement added.
The attack came several hours after a pinpoint IAF airstrike in Gaza killed one Islamic Jihad terrorist and injured three others.
Islamic Jihad told CNN the strike hit a small vehicle in northern Gaza.
The operation targeted "a squad affiliated with recent terror activity," the IDF released in a statement.
Both strikes took place on the same day IDF chief of staff said Israel could not "escape" the need for a major ground incursion in Hamas-run Gaza.
"I believe that the state of Israel cannot continue to live under the active threat of Hamas in the Gaza Strip," Gantz said earlier Tuesday. "Sooner or later, there will be no escape from conducting a significant operation."