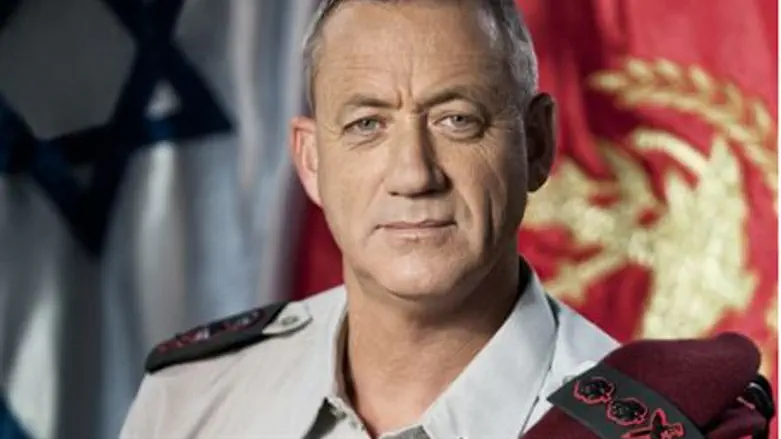 Benny Gantz
IDF Spokesperson
IDF Chief of Staff Benny Gantz on Tuesday said there is "no escape" from launching a major operation to root out Hamas in Gaza.
"From time to time, we face rocket fire from the Gaza Strip and we understand the continuing buildup from the Egypt region," Gantz said. "I believe that the state of Israel cannot continue to live under the active threat of Hamas in the Gaza Strip."
"Sooner or later, there will be no escape from conducting a significant operation," Gantz continued. "The IDF knows how to operate in a determined, decisive and offensive manner against terrorists in the Gaza Strip."
Gantz said that any such operation would be premeditated and quick.
On the third anniversary of Operation Cast Lead, Gantz expressed satisfaction with the high level of deterrence Israel gained from it.
Critics, however, say that a Gaza incursion would be unecessary if such deterrence had really been achieved. They accuse then Prime Minister Ehud Olmert of caving in to international pressure and ordering the IDF to pull out before it had achieved its strategic aims in Gaza.
Nor, they say, does Israel face rockets and mortars from Gaza "from time to time," noting that thousands of rocket and mortar shells have been launched by terrorists Gaza at Israel's southern communities since Operation Cast Lead was concluded.
Military analysts say Israel's airstrikes-for-rocket-attacks strategic posture vis-a-vis Gaza has proven ineffective against Hamas and perpetuated the poor security situation of Israel's southern communities. Over 1 million Israelis live under the threat of persistent rocket attacks from Gaza, with concurrent psychological harm to children and the elderly.
Gantz joins his predecessors Shaul Mofaz, Moshe Yaalon, Dan Halutz, and Gabi Ashkenazi in admitting the need for a major ground operation in Gaza. Former Maj. General Yoav Galant and Minister of Internal Security Yitzhak Aharonovitch have also called for such an operation.