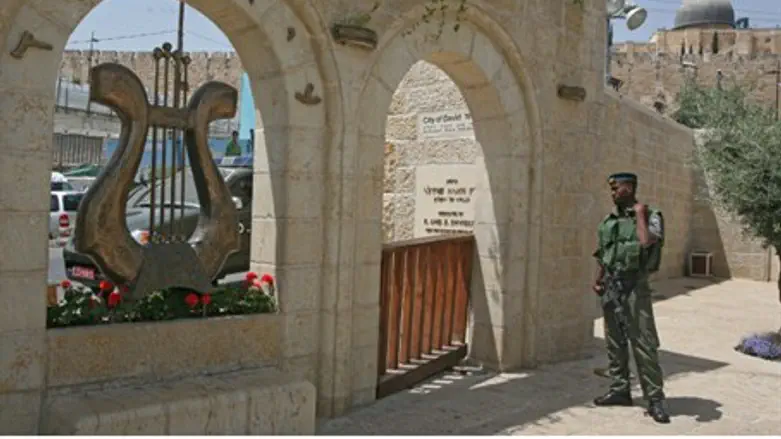 City of David
Israel news photo: Flash 90
The "City of David" neighborhood, home to a major archaeological dig and located across the road from the Western Wall, plans a new tourist center that is likely to arouse anger at the United Nations, the Obama administration and the Palestinian Authority.
The planned center and parking lot over the excavations is years away from construction, and the plans are to be discussed in a Jerusalem committee Wednesday. The Associated Press already has reported the plan and referred to the center's sponsor, the Elad Foundation, as a "hard-line Israeli group."
Elad, similar to other nationalists, has urged Jewish development in the area in accordance with its being an official part of Jerusalem. The international community, however, does not recognize Israel's right to all of Jerusalem that was restored to  the country in the Six-Day War in 1967.
The City of David is at the entrance to the Silwan Valley, a hotbed of contention and frequent terrorist attacks by Arabs objecting to a Jewish presence in the area. Silwan is also the site of the underground water tunnel built by Judean King Hezekiah during the first Temple period. In the "City of David" excavations, a signet ring from the time of Jeremiah with a Hebrew inscription was found.
There has been a steady growth in the number of Jewish families living in the City of David, and there is a long line of people on the waiting list for homes that are often bought from neighboring Arabs.
Meanwhile, the Tourism Ministry announced on Tuesday it is investing more than $5 million in 2012 to maintain and conserve Jewish sites in the Old City, Rachel's Tomb at the southern edge of Jerusalem and the grave of Rabbi Shimon Bar Yochai (Rashbi) on Mount Meron.
The refurbishment and rehabilitation plan of the National Center for the Development of Holy Sites of the Ministry of Tourism also includes new projects at the grave of Samuel the Prophet (Neve Samuel) in northern Jerusalem and  the grave of Rabbi Akiva in Tiberias.
"Israeli and international Jewish tourists visiting the Jewish holy sites are important anchors in the Ministry of Tourism's activities both in Israel and abroad," said Tourism Minister Stas Misezhnikov.