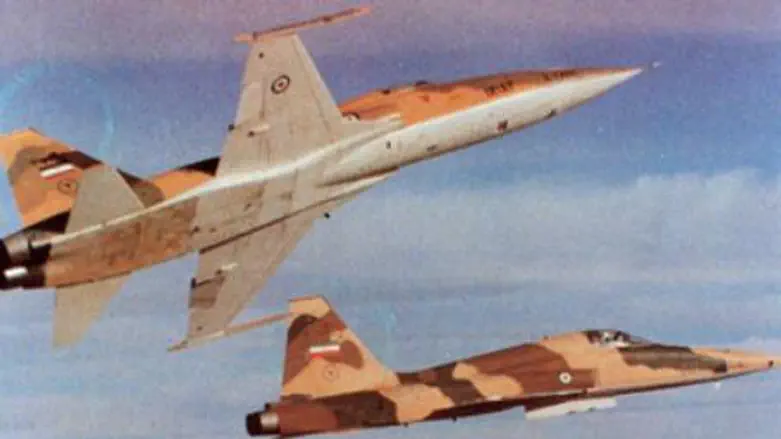 Iranian warplanes
Iran warplanes: Islamic Republic Air Force
Iran says it chased away a Western helicopter that approached its navy war games area and did not leave until three warnings were issued.
The United States, Britain and France are the only non-regional powers with troops in the region. None of the countries has commented on the Iranian claim, published in its semi-official media.
U.S. reconnaissance planes were shooed away last May in a war game zone in the Persian Gulf, and last month the United States lost a surveillance drone that apparently was downed by the Iranian military.
"Yesterday, a chopper which belonged to the trans-regional countries tried to approach the region of Velayat 90 exercises, but it left the area when it received a serious warning after it ignored two other warning signals of our units," Lieutenant Commander of the Iranian Navy Admiral Seyed Mahmoud Moussavi said.
The massive 10-day war games began on Saturday and include maneuvers in the Indian Ocean, the Straits of Hormuz and the Gulf of Aden.
Iranian Navy Commander Rear Admiral Habibollah Sayyari said that "Velayat 90" marks the first time that naval drills have been carried in the areas and added that the newest missile systems and torpedoes will be employed in the maneuvers.
"These war games are a warning to the western countries about the closure of the Strait of Hormuz," Zohreh Elahian, a member of the parliament's National Security and Foreign Policy Commission, told the government-controlled Fars News Agency.
"The naval drills in the Persian Gulf and the Sea of Oman display the power and domination of the Islamic Republic of Iran's Navy over the regional waters," she added.
Western sanctions against Iran and the threat of a military strike to stop its unchecked nuclear development could bring about a blockade of the Straits that would cripple Iran's economy but also might spark a global financial panic.
"The closure of the Strait of Hormuz is not on the Islamic Republic of Iran's agenda (at present), but if threats against Iran come to trample upon the rights of our nation while others use the strait for exporting their oil, then Iran will be entitled to the right to close the Strait of Hormuz," member of the Iranian Parliament Mohammad Taqi Rahbar told Fars earlier this month.