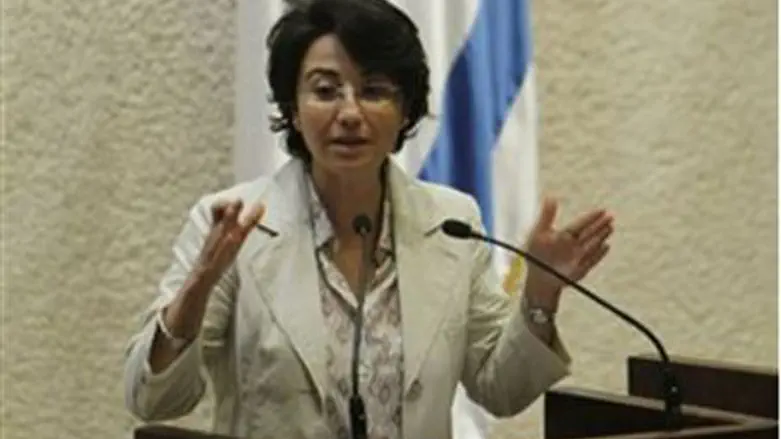 MK Zoabi
Israel news photo: Flash 90
Likud Knesset Member Danny Danon is preparing a proposed law to allow the Knesset to expel any member who supports terrorists or acts to undermine the country.
His bill is in response to last week's decision by Attorney General Yehuda Weinstein to close the investigation against Arab MK Hanin Zoabi, who participated in the May 2009 flotilla sponsored by the Turkish terror-linked IHH organization.
Dozens of IHH members on the Mavi Marmara boat brutally clubbed, shot, knifed and kidnapped Israeli navy commandos, who had warned the boat to change its course from attempting to break the blockade on Hamas-controlled Gaza. The commandos eventually were able to overcome their attackers, nine of whom were killed in the clash. Zoabi was on board but was not in the group of attackers. She was not injured.
Zoabi belongs in jail and not in the Knesset, MK Danon stated. "She used her parliamentary immunity to support the terrorist attempt to kill Israeli army soldiers," said Danon.  He noted that the Knesset already has suffered from anti-Israeli MKs, such as Azmi Bishara, who fled the country after being indicted for aiding Hizbullah in the Second Lebanon War in 2006.
Weinstein said he closed the case because of lack of evidence and witnesses and due to "significant evidence-based and legal difficulties."
MK Danon's bill would condition a move to expel a Knesset Member on 30 MKs supporting such a move, which would then be discussed by the Knesset Committee. If the panel were to approve the motion, it would need a two-thirds majority – 80 votes – in the Knesset to expel any legislator whose objectives or actions are against the State of Israel or negates it as being a Jewish and democratic country.
"This is a bill that would protect democracy from those who use it undermine the country from within," MK Danon explained. "Zoabi is a fifth column in the Knesset and her place is next to Abu Mazen [Palestinian Authority Chairman Mahmoud Abbas] and the terrorists he embraces."