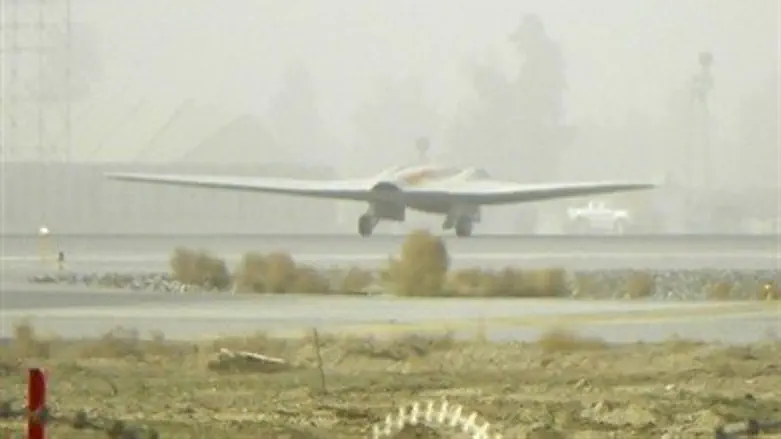 U.S. Stealth RQ-170 Sentinel drone
Israel news photo: US DOD Photo
Iran is having a field day over the latest downed Drone, saying that President Barack Obama "begs to give him back his toy plane."
"Obama is hoping that the Iranian government is in a Christmas mood because he has asked Tehran to send him his Christmas present. Iran mocks Obama who 'begged' for [his] Drone back," chided the semi-official Fars News Agency.
"We have asked for it back. We'll see how the Iranians respond," Obama said following a meeting at the White House with Iraqi Prime Minister Nouri al-Maliki.
Iran said last week it downed an advanced RQ-70 drone. The Obama administration initially denied the report, but later admitted it had lost a drone.
"Given Iran's behavior to date, we do not expect them to comply," U.S. Secretary of State Hillary Clinton said. President Obama reportedly turned down proposals to try to bomb the drone or retrieve it, fearing such an act would be considered an "act of war."
"This is not only an intelligence victory for us, but a defeat for our enemies," said a senior commander of Iran's Islamic Revolution Guards Corps.
The RQ-170 has special coatings and a batwing shape designed to help it stay undetected by radar.
Iranian Foreign Ministry Spokesman Ramin Mehman-Parast lambasted Obama, saying that "it seems that he has forgotten that Iran's air space has been violated, espionage operations have been carried out, international laws have been violated and Iran's internal affairs have been interfered with."
Iran now claims that the United States has lost 90 drones since 2007.
"The Drone Crash Database of the global research says thirteen drone crashes have taken place over the past ten months, including the stealth drone in Iran," Fars reported.