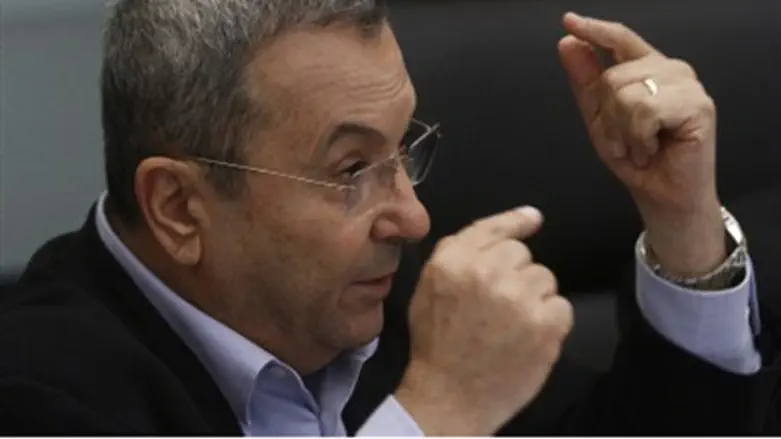 Ehud Barak
Israel news photo: Flash 90
Defense Minister Ehud Barak said on Sunday that the downfall of Syrian President Bashar Assad would be a "blessing to the Middle East."
In a speech at the World Policy Conference in Vienna, Barak predicted that the Assad regime will fall within weeks.
"We are witnessing the last days of fighting between forces loyal to the Assad family and the rebels," Barak was quoted by Channel 10 News as having said. "This is the continuation of the deterioration of the Assad family that will lead to the end of its rule."
Barak added, "The Assad family and its loyalists killed to date more than 4,000 people across Syria and is headed towards the end of its rule. The Arab League decided to impose sanctions on Syria and Jordan's King Abdullah also expressed his opinion regarding the Syrian regime."
He said that "it will be impossible to know who will rule in Syria after Assad the regime, but in any case, this would be a blow to the Iran-Hizbullah axis."
An earlier report quoted Barak as having alluded in the same speech to the 2005 Disengagement from Gaza as he warned that Israel would strike back at terrorists there.
"Since Friday, about 36 missiles have been fired from Gaza at Israeli communities," he said. "Israel will know how to defend itself and will not let this situation continue. [Prime Minister Ariel] Sharon evacuated the Gaza Strip and took out every last soldier and civilian, gave instructions to tear down all buildings, even synagogues, so as not to supply any excuse to the Palestinians. And what happened? Hamas fired over 10,000 rockets at Israel."
As Barak was making his comments, army defectors squared off against their former compatriots in one of the fiercest battles to wrack the country in Syria's emerging civil war.
Loyalist forces backed by tanks clashed with hundreds of army defectors in southern Syria, not far from the northern border of Jordan.  The troops, mainly from the 12th Armored Brigade based in Isa, stormed the nearby town of Busra al-Harir, defended by the Syria Free Army (SFA), and the nearby area of Lujah.
Al-Jazeera later reported that at least 27 people were killed, including five soldiers.
A general strike was also called Sunday by the groundswell of opposition sweeping the country, in hopes it would further the move to pressure President Bashar al-Assad to step down from office. Last week, a major oil pipeline from eastern Syria to the central city of Homs was sabotaged.