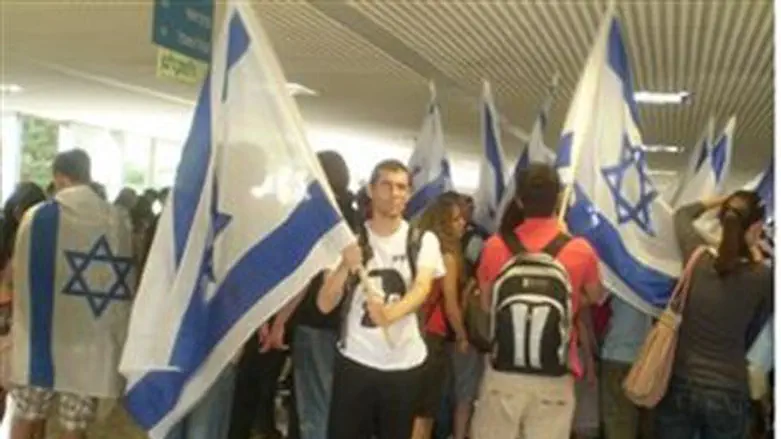 Im Tirtzu rally
Israel news photo: Flash 90
The left-wing Peace Now group has convinced Bank Leumi to halt a project because a participating right-wing Zionist group is allegedly political.
"We had good intentions, but found ourselves the target of public criticism," the bank stated after Peace Now threatened to close its account if it continued to allow the Zionist Im Tirtzu group to take part in the "Two Million Good reasons" campaign that promotes non-profit organizations.
The name Im Tirtzu refers to modern Zionist founder Theodore Herzl, who wrote, "If you will it, it is no dream."
The organization describes itself  as "an extra-parliamentary movement that works to strengthen and advance the values of Zionism in Israel….. Im Tirtzu's main objectives focus on working towards a renewal of the Zionist discourse, Zionist thinking and Zionist ideology, to ensure the future of the Jewish nation and of the State of Israel and to advance Israeli society in coping with the challenges it faces.
"A major portion of Im Tirtzu's efforts is devoted to combating the campaign of de-legitimization against the State of Israel and to providing responses to Post-Zionist and Anti-Zionist phenomena."
Its activities include support for Jewish rights in Judea and Samaria, and Im Tirtzu also often takes at aim at  universities that employ anti-Zionist professors.
Im Tirtzu was in second place in voting for the most popular non-profit organization when Peace Now director Yariv Oppenheimer issued his threat to Bank Leumi and warned that he also would encourage Peace Now members to close their accounts.
Although Im Tirtzu does not affiliate with any political party, Oppenheimer argued that the bank was violating its conditions that groups participating in the contest must be non-political.
The bank halted the campaign and agreed to compensate the 137 participating groups with NIS 10,000 each ($2,600) to cover costs.
The remaining NIS 600,000 ($160,000) in the campaign's budget will be allocated to groups involved with education and social welfare.
The bullying threats of Peace Now have worked again and prove that the extreme left excels in silencing voices of anyone who does not agree with its positions," stated Im Tirtzu in response to Bank Leumi's action.