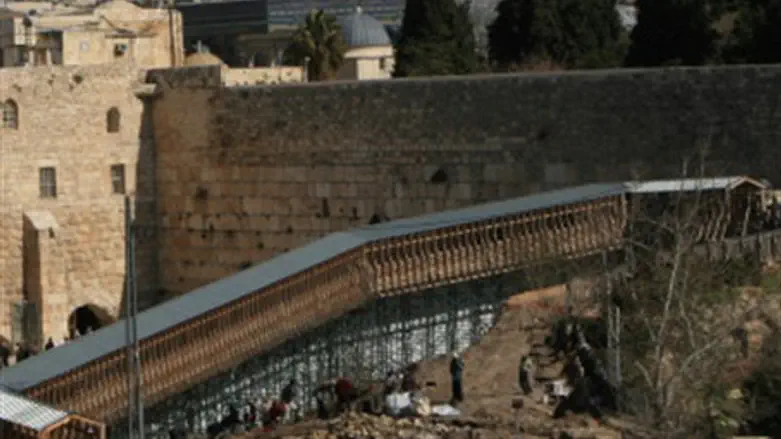 Mughrabi (Rambam) Bridge
Israel news photo: Flash 90
The Jerusalem Municipality's chief engineer Shlomo Eshkol said Thursday that he planned to issue an immediate order for the closure of the Rambam Bridge (also known as the Mughrabi Bridge), currently the only entry point to the Temple Mount for Jews and non-Muslim tourists. In a letter to the Western Wall Foundation, which is responsible for the structure, Eshkol said that the bridge structure was very dangerous and in danger of immediate collapse, and could easily catch fire as well. The order to close the bridge would be issued within 7 days, the letter said.
This is not the first time Eshkol has warned about the dangers of the temporary wood bridge; last month, he said that the situation in the area of the bridge was "very dangerous," after a thorough engineering study by himself and Fire Department investigators. The main danger, the study said, was to women praying at the Kotel; the structure hovers over the women's area of the Kotel and has even taken away a significant part of their prayer area. A collapse or fire, G-d forbid, could exact a great toll, the study said.
The current structure has been in place since 2004, when the permanent bridge at the site collapsed due to winter storms that year. However, the rickety wood structure now used by hundreds of people a day was never meant to be used this long and this extensively. The Western Wall Foundation has sought for years to obtain a permit for remodeling and rebuilding the structure, and that permit was finally issued earlier this year.
The government has leaned on the Foundation and the municipality to hold off on the project, as Arabs in Jerusalem and across the Arab world have threatened riots and worse if Israel goes through with the project, which they say is part of a "Jewish plot" to remove Arabs from the Temple Mount. Several weeks ago, Prime Minister Binyamin Netanyahu ordered the municipality and the Public Security Ministry to halt plans for the remodeling.