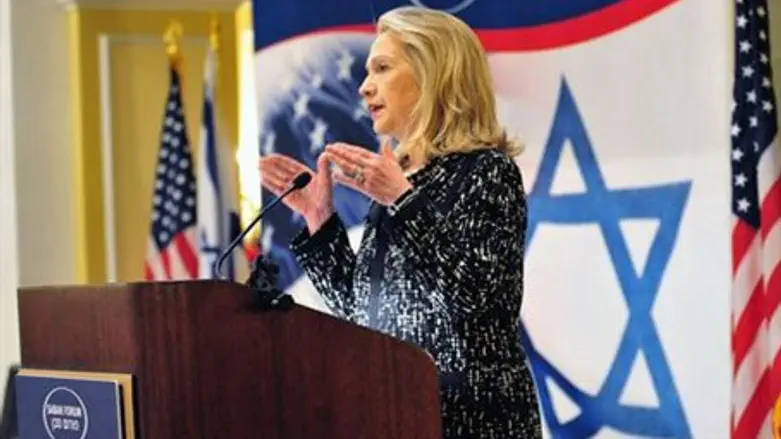 Clinton speaking at Saban Forum
Israel news photo: US State Department
U.S. Secretary of State Hillary Clinton switched from foreign to domestic issues to put down Israel Saturday, expressing worries over "anti-democratic" proposals. Knesset Member Uri Ariel suggests that Secretary of State mind her own business, and two Cabinet ministers said the same, in more patronizing language.
Speaking at the Saban Forum in Washington, Clinton alleged that Israel is showing signs of becoming anti-democratic because of a recent bill proposing limits on foreign funding of local NGOs and for allegedly trying to exclude women from public life in Israel.
Israel is known as the only real democracy in the Middle East, where women and Arabs have full and equal rights and who have risen to the top in politics and business.
However, she picked on several Jerusalem buses, used mainly by hareidi religious passengers who prefer separate seating for men and women as a matter of modesty.
Although the courts have ruled that the seating is legal only if it is accepted by the passengers, and although the number bus lines involved represent a tiny fraction of Israel's transportation system, Clinton pounced on the issue.
It's reminiscent of Rosa Parks," she said, referring to a black woman who refused to give up her seat to white passengers in the United States in the 1950s.
She also jumped on the issue of requests from hareidi religious soldiers to be excused from IDF events in which a woman is singing, which is considered by many to be a violation of the laws of modesty when performed in mixed company.
For Clinton, the request reminds her of Iran.
National Union MK Uri Ariel commented Sunday that Clinton "would do well not to interfere with Israel's internal affairs and worry instead about American citizens."
"Her unwanted interference is an additional proof that Israel needs laws that will preserve its character and protect it from interference by foreign governments who try to minimize Israel's Jewish character," he added.
Finance Minister Yuval Steinitz also thought Clinton's comments were odd. "Her comments are a complete exaggeration." he said Sunday morning, "Israel is a living and liberal democracy, I do not know of many other democracies that are any better. The subjects of separate seating and rejecting women are unacceptable, but that is far away from representing a threat to democracy."
Another Likud Minister, Gilad Erdan, advised that public officials should study their own policies and not interfere with Israel's domestic issues.
Oddly enough, the Saban conference focused on Iran and the American-backed Middle East "peace process," which most observers consider to be dead and buried.
Clinton's criticism of Israel was a follow-up to Secretary of Defense Leon Panetta's speech the night before, claiming that Israel and the Palestinian Authority must get "back to the damned table."
Her negative comments on Israel's democracy came during the same week that Egypt tried out democracy and gave the radical Muslim Brotherhood an apparent first-round victory.
The United States has urged Middle East countries to adopt Western-style democratic procedures. Its first "success" was in the Palestinian Authority six years ago, when the Hamas terrorist in a bloody militia war and split the Palestinian Authority.