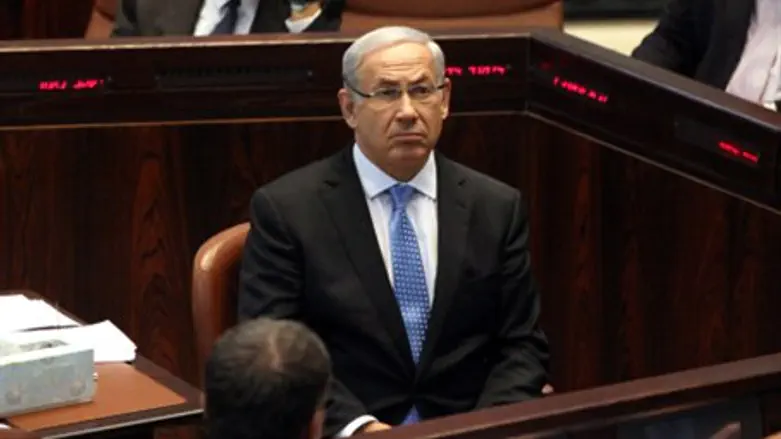 Binyamin Netanyahu
Flash 90
Prime Minister Binyamin Netanyahu personally intervened over the weekend to halt an ad campaign aimed at Israeli yordim (former Israelis) living in the United States encouraging them to consider returning to Israel. The campaign was cancelled after Israelis living in the U.S. and American Jews complained that the campaign was "insulting and hurtful."
The campaign, consisting of several clips that were posted on Youtube and spread via e-mail and social media that highlighted the dangers of assimilation for Jews and especially Israelis living in the U.S. In one of the clips, a child of an Israeli couple living in the U.S. tells her grandparents who ask in a video chat what holiday is coming up, that she will be celebrating Christmas. In another clip, the American husband of an Israeli woman (it's not clear if he is Jewish or not) cannot relate to her observance of Yom Hazikaron (Soldiers' Memorial Day).
Accompanying the clips were billboards displayed in areas with large concentrations of Israelis in New York City and Los Angeles, imploring Israelis to "come home before Hanukkah turns into Christmas" and "before Abba turns into Daddy."
Reports in the U.S. said that thousands of irate American Jews and former Israelis called the Israeli Embassy and consulates in the U.S. complaining that they felt insulted. Michael Oren, Israeli ambassador to the United States, said that "the Ministry of Immigrant Absorption's campaign clearly did not take into account American Jewish sensibilities, and we regret any offense it caused."
In a statement, he said that the campaign was conducted "without the knowledge or approval of the Prime Minister's Office or of the Israeli Embassy in Washington. Prime Minister Netanyahu, once made aware of the campaign, ordered the videos immediately removed from YouTube, and he ordered that the billboards be removed as well. The prime minister deeply values the American Jewish community and is committed to deepening ties between it and the State of Israel."
Abraham Foxman, national director of the ADL, said that "We find these videos heavy-handed, and even demeaning. While we appreciate the rationale behind the Israeli government's appeal to its citizens living in the U.S. to return to Israel, we are concerned that some may be offended by what the video implies about American Jewry."
In a statement, the Absorption Ministry, which organized the campaign, said that it was not aimed at American Jews, but only at former Israelis, and that the Ministry "respects and appreciates the American Jewish community and recognizes its strong connection to Israel."