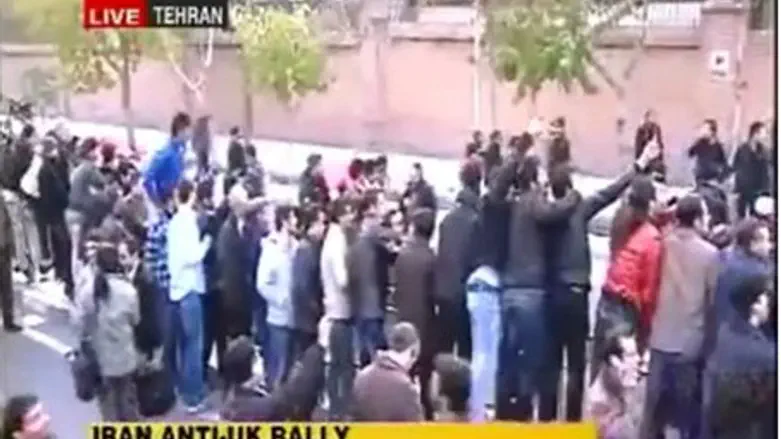 Protest in Tehran, 29.11.11
Israel news photo: PressTV
Britain has ordered the closure of the Iranian embassy in London, and told the Iranian ambassador and his staff they have 48 hours to leave the country.
UK Foreign Secretary William Hague accused the Tehran government of backing the invasion of Britain's embassy in the Iranian capital on Tuesday. A violent mob stormed through the building, smashing windows and hurling firebombs three days after the Tehran government downgraded diplomatic ties with Britain and gave the UK ambassador three days to leave Iran.
Local police did not intervene until the building was completely destroyed.
Early Wednesday, Britain ordered its embassy in Iran closed and told British personnel to return home after British Prime Minister David Cameron met with the "crisis Cabinet" -- a group of the country's top security and political officials -- to decide whether to evacuate  and leave.
Cameron later told Parliament he had spoken with Britain's ambassador to Iran about the safety of his staff, noting that was the primary concern. "After that, we will consider taking some very tough action in response to this completely appalling and disgraceful behavior by the Iranians," he said.
Hague maintained it was not possible the Iranian government had not given its prior consent for the riot, despite a dutiful apology issued by Tehran.
"The idea that the Iranian authorities could not have protected our embassy or that this assault could have taken place without some degree of regime consent is fanciful," he said.
Norway quickly took the hint, and "temporarily" closed its own embassy in Tehran, citing the "general security situation" as the reason for the decision. Thus far, Norwegian diplomatic staff hve remained in the country.
Both the United States and the United Nations Security Council have also issued statements condemning Iran's actions, which for many have raised the spectre of a possible re-enactment of Iran's 1979 takeover of the U.S. embassy in Tehran.