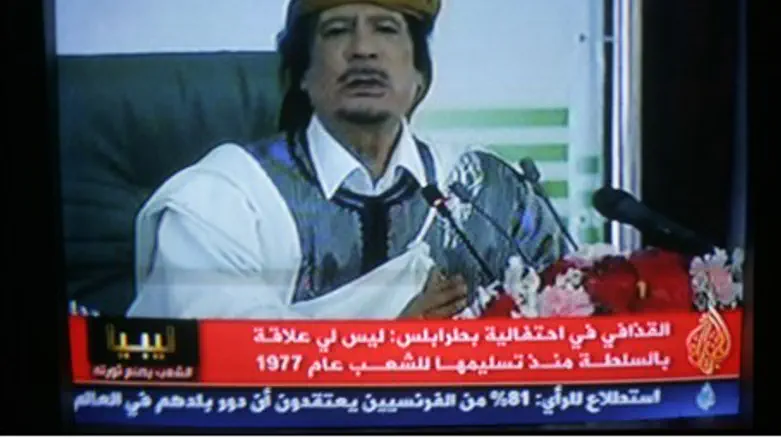 Former Libyan leader Muammar Qaddafi
Israel news photo: Flash 90
The daughter of former Libyan dictator Muammar Qaddafi is proving true to her genetic ties and is carrying on her father's struggle against the rebel forces who toppled him from power.
Having found refuge in Algeria barely three months ago from the rebels who eventually became the country's rulers, Aisha Qaddafi this week called on Libyans to topple the new government.
Aisha's father became Libya's dictator also by seizing power and overthrowing the previous ruler 42 years ago, albeit with much less blood and without NATO assistance.
This past August, when the rebel forces broke through to Tripoli and stormed the Qaddafi family compound, the dictator read the writing on the wall and managed to spirit his pregnant daughter, her mother and two sons to safety in Algeria. He and his son Muatassim were subsequently captured and killed by rebel forces on October 20, outside his hometown of Sirte.
Speaking in an audio message broadcast on the Qaddafi loyalist al-Rai television station based in Syria, she urged Libyans not to forget Muammar Qaddafi.
"My father has not left; he is always among us," she said in a message marking the end of the traditional 40-day mourning period that followed his death. "Don't forget the orders of your father urging you to continue fighting, even if you no longer hear his voice."
This is not the first time Aisha has issued such an appeal, having broadcast a similar message in September. The move could threaten Algeria's ability to build ties with Libya's new government after having maintained neutrality for a long period in the civil war that raged next door.
The Al Qaeda in the Islamic Magreb (AQIM) terrorist organization, a branch of the international Al Qaeda terror group, bombed a military academy in Algeria in July to punish the government for supporting Qaddafi. At least 18 people were killed and 26 others were wounded in the twin suicide bombing referred to by AQIM as a "Gift for Eid" in a note later emailed to the AFP news agency in Morocco, claiming responsibility for the attack.
The Libyan dictator long maintained before his death that Al Qaeda was rampant among the rebel forces intent on overthrowing his regime. 
Libya's National Transitional Council (NTC) expressed its disapproval of the Algerian decision to provide a safe haven for Qaddafi's family members -- rather than extradite them to Libya for trial, and possible execution. Aisha was nine months pregnant when she fled, and upon reaching the Algerian border, she reportedly gave birth there. 
The broadcast -- and Aisha's message -- nevertheless comes in direct violation of a promise that she and her family made in return for their acceptance as refugees for humanitarian reasons.