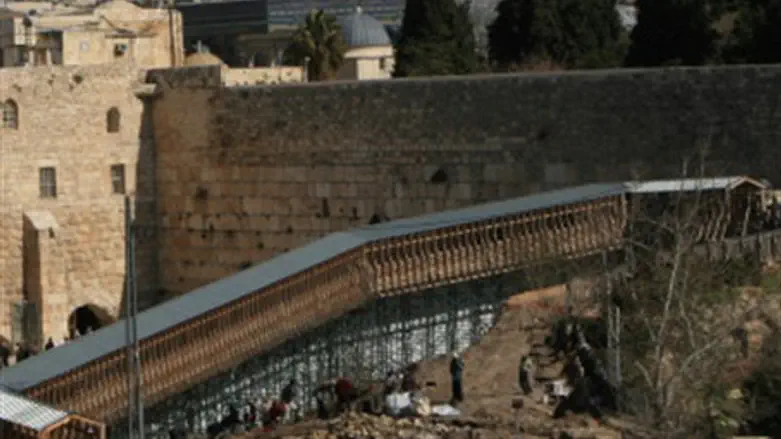 Mughrabi (Rambam) Bridge
Israel news photo: Flash 90
Prime Minister Binyamin Netanyahu prevented at the last minute the demolition of the Mughrabi Bridge, which links the Western Wall Plaza to the Temple Mount.
According to a report on Sunday on Israel's Channel 2 News, Netanyahu's decision came after pressure from Jordan and Egypt. Both countries said that demolishing the bridge will result in riots.
Jerusalem city engineer Shlomo Eshkol recently said that the bridge to the Mughrabi Gate, also called the Rambam Gate, was structurally unsound, posed a risk to human life, and should be dismantled within 30 days.
Eshkol said in his decision that the bridge, constructed from wood, should be replaced with a structure designed by a competent engineer and made of non-combustible materials.
The Waqf (Department of Islamic Endowments in Jerusalem), however, rejected that opinion, saying the final decision in the matter is theirs.
The Waqf regard the Temple Mount as a Muslim sanctuary under their sole authority. They claim that no one else has a right to interfere or monitor their affairs, and deny Jewish connections to the Temple Mount.
According to the report on Channel 2, the demolition was supposed to take place on Sunday morning, but Netanyahu decided to postpone the demolition until after the matter is further discussed.
The decision was met with anger by MK Michael Ben-Ari (National Union), who sent a letter to the Prime Minister on Sunday, demanding that the bridge be demolished right away.
"No one has any doubt that this is a dangerous structure which endangers the public," Ben-Ari wrote Netanyahu. "All the documents show that there is a need to demolish the bridge immediately. Today I was shocked to hear reports in the media saying that the Prime Minister prevented the demolition of the bridge due to considerations that are not professional. It's difficult for me to understand how the Prime Minister is not considering the public's safety, particularly when it's one year after the disaster in the Carmel and the State Comptroller is still investigating this issue."
"I hope that these publications are not true and, if they are true, it is a scandal and an offense," Ben-Ari added. "Therefore, I ask the Prime Minister to order the immediate destruction of the structure. If you do not do so, I will have to go to the courts and ask them to remedy the situation in the interest of public safety."