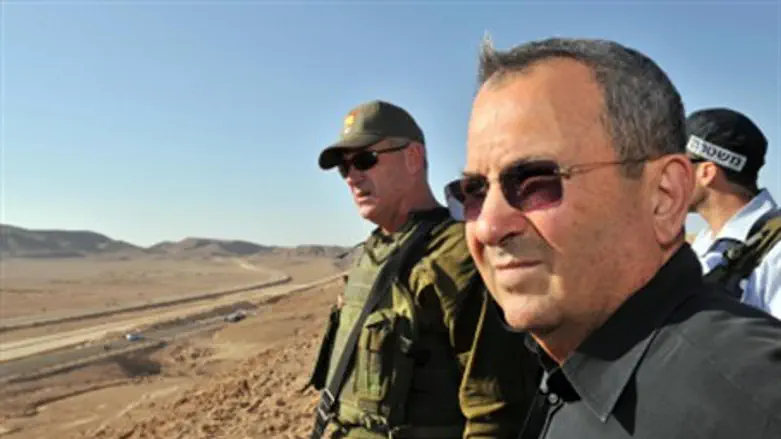 Ehud Barak
Flash 90
Defense Minister Ehud Barak addressed for the first time on Sunday evening the mysterious explosion that took place on Saturday at a military base in Iran.
In an interview with Army Radio, Barak would not speculate about the cause and nature of the explosion and when asked about the extent of the damage caused by the explosion he replied, "I do not know, but may there be more such explosions."
The mysterious blast, which occurred at a missile base southwest of Tehran, killed 17 people including a senior Iranian Revolutionary Guards missile expert.
On Sunday, blogger Richard Silverstein stated categorically that the Mossad and the MEK, a group of Iranian exiles, collaborated to carry out the explosions.
"My source has never been wrong so far in the reports he's offered," Silverstein wrote.
In the interview, Barak also addressed Saturday's decision of the Arab League to suspend Syria and its institutions, and said that he feared Syrian President Bashar Assad will make even more brutal moves in response to the move.
"Assad has passed the point of no return," the Defense Minister said. "Many more will be killed but he will eventually fall."
Barak once again criticized the bill on High Court appointments, which would require nominees for the High Court to face questioning by the Knesset's Law, Constitution and Justice Committee, which could rule against a particular nominee. Earlier on Sunday, Prime Minister Binyamin Netanyahu bowed to pressures from the Attorney General, mainstream media and some of his own Likud party Knesset Members and postponed a vote on the bill.
"There is an unreasonable collection of legislation that would limit the independence of the High Court," Barak told Army Radio, adding that all members of his Independence party plan to vote against the bill.
"We have to discuss the issue both within the government as well as hold a public debate – we must stop this initiative," Barak explained. "We will use every means available to us to stop this devastating trend."
He said many Knesset members support his position, including some Likud ministers such as Dan Meridor, Benny Begin, Gideon Sa'ar and Michael Eitan.
"I have yet to find out the prime minister's position on this bill, but I'm glad many of his senior party members oppose this dangerous proposal," Barak said.