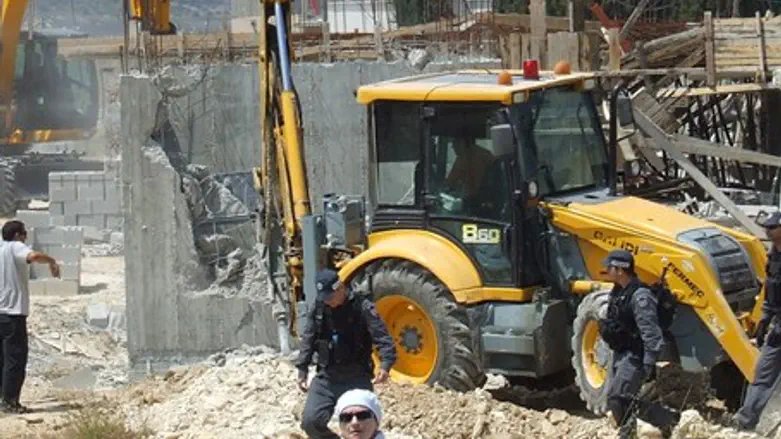 Demolition of Jewish homes (archive)
Israel news photo
Last week, the outpost of Oz Tzion, near Givat Assaf, was demolished in an early morning raid.
A newlywed couple was arrested after police and Civil Lands Authority officials swooped down on the community at dawn and leveled 15 structures, including the new home of a couple who had been married less than a week earlier.
Arutz Sheva brings you the following video taken by Shosh Greenfeld who came a day after the demolition to hear testimonies from Oz Tzion's residents about the incident.
"They came last night at 3:30 a.m. in two police buses," one resident said. "They stormed us, shooting flares and throwing stun grenades, creating a great confusion. They stormed us, arresting or beating everyone in their way. They chose those hours on purpose so they could abuse people, when they could hit people without anyone seeing them."
He added that the officers shouted to frighten the residents.
"They wanted you to feel that great crowds were coming to attack you," he said. "Everyone was terrified and ran away. Sadly, we are not skilled enough. We are facing an army."
"We are building this place because we think that we must settle in the whole Land of Israel," he added. "Also, we believe that any place that is in danger must be expanded."
The resident emphasized that he and his friends will not despair and will rebuild their destroyed homes.
"The Ga'on of Vilna teaches that redemption grows out of misery," he said. "We don't want destruction, but if it happens we use it for goodness. We will expand the houses, make them larger, more beautiful, build more houses. We are building for more people here and more families. G-d willing, we will make this settlement flourish."