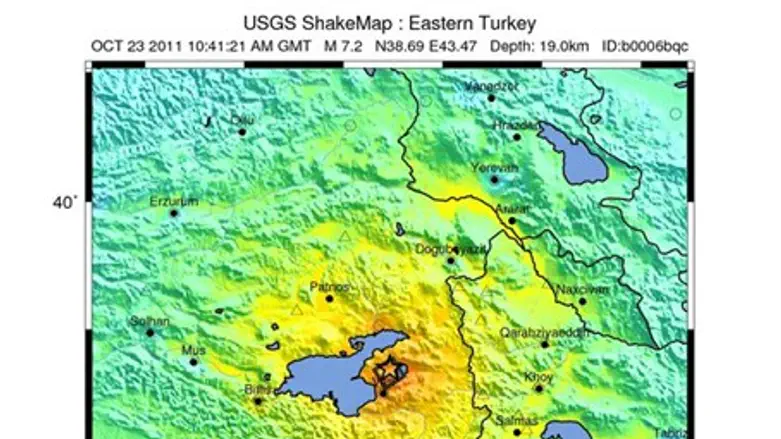 USGS map of Oct 23 earthquake
Israel news photo: courtesy of USGS
A new earthquake has rocked eastern Turkey, shaking up a region already devastated by a temblor that struck less than a month ago. The temblor registered at 5.5 on the Richter scale and struck at 2:05 a.m. local time early Wednesday.
Turkey's Kandilli Observatory and Earthquake Research Institute said on its website that the quake hit the Kaustuk village of Adilcevaz town of Bitlis province. It shook up the Van province, as well as the Armenian capital of Yerevan.
There have been no reports on casualties yet.
Van was already devastated by the 7.2-magnitude earthquake that hit the area on October 23.
Numerous aftershocks followed that tragedy, which destroyed hundreds of buildings in the town of Ercis and the largest city of Vans. At least 605 died as a result, and more than 4,000 others were injured and left homeless.
Rescue workers pulled 188 people out alive from under the rubble of hundreds of buildings that were destroyed.
Wednesday's quake is technically considered to be another of the strong aftershocks that has rattled the area since the first temblor struck.
The epicenter was located 9.4 kilometers below the surface, according to the U.S. Geological Survey.
Although initially Turkey maintained it would be able to manage the disaster on its own, the government quickly came to the realization that it would need the assistance of its neighbors and friends. Two days after the tragedy, Ankara relented and requested aid from 30 nations, Israel among them. Through its embassy in the Turkish capital, the Jewish State was asked to provide seven pre-fab mobile homes, which it immediately dispatched to the disaster area on a chartered Boeing-747.
However, the closest local airport, Van City Airport, is still damaged and unable to be used, according to the Canadian Kenora Daily Miner and News website, complicating efforts to assist.
"Because of earthquake damage to the Van city airport, we are flying our ShelterBoxes into Erzurum, a city about 250 km from Van and then trucking them as quickly as possible to [the] disaster zone," Shelter Box Canada response team leader Ron Noseworthy told the site.
Falling temperatures, which were cold from the outset of the disaster, have dropped further as the winter sets in, and aid teams are engaged in a race against time with snow in the forecast.
The ShelterBox tents mentioned by Noseworthy are designed specifically to withstand extreme weather conditions, and the aid packs include blankets, warm clothes, stoves, equipment and water purification kits.