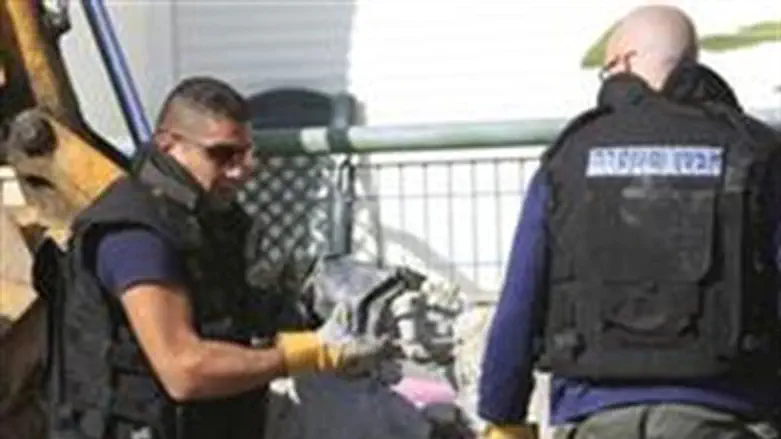 Grad Katyusha rocket
Israel News Photo: Flash 90
At least two Grad Katyusha missiles exploded Monday evening in the area around the southern city of Be'er Sheva as Palestinian Authority terrorists resumed their rocket fire on Israeli men, women and children. 
The Iron Dome anti-missile defense system intercepted both of the missiles as short-range Kassam rockets also landed in the Sdot Negev region, a few kilometers to the south, and near the town of Sderot, less than a mile from Gaza.
Mortar shells exploded in the Sha'ar HaNegev region, and a short-range Kassam rocket exploded in an open field in the same area. No physical injuries were reported and there was no damage in any of the attacks.
Prime Minister Binyamin Netanyahu told the Likud Knesset faction Monday afternoon, "There is no ceasefire, there are no negotiations and the IDF continues its operations. Anytime someone disrupts the peace in the south," he said, "our response will be severe."
He continued that theme at the opening meeting of the Knesset's winter session, warning, "Our security strategy cannot only rely on defense, but must have an offensive element that maintains Israel's deterrence."
Earlier in the day, a Grad Katyusha missile was fired at the coastal city of Ashkelon. The rocket exploded in an area south of the city. No one was physically injured, and no damage was reported.
Over the weekend, 39 rockets and mortars were fired at southern Israeli cities by Palestinian Authority terrorists in Gaza. Ashdod, Ashkelon, Be'er Sheva, Gan Yavne and numerous other communities all came under attack repeatedly.
A 56-year-old Ashkelon man was killed by flying shrapnel on Saturday when a Grad Katyusha missile struck his car. Sixteen people were wounded in other attacks, including a baby and a young girl, and 14 people were sent to the hospital suffering from trauma and severe anxiety.