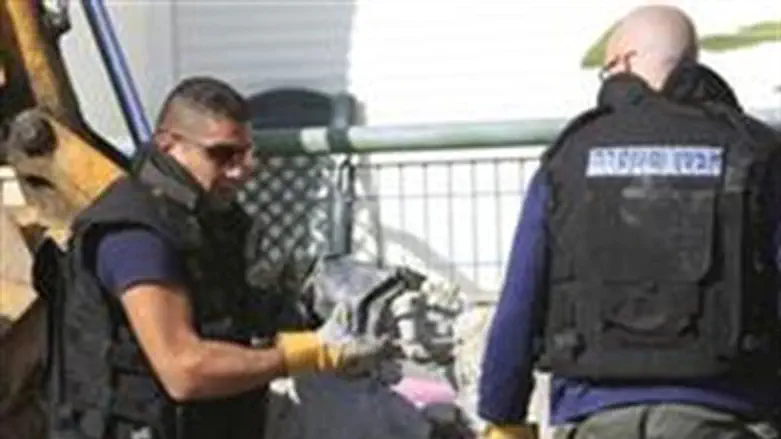 Grad Rocket
Israel News Photo: Flash90
Gaza Arab terrorists fired at least three Grad-style Katyusha rockets at Israel on Saturday, one of them hitting in the yard of a school in Ashdod. A second rocket fell in an open area in Ashdod, and the third fell near Gan Yavneh, IDF officials said.

One person – a young girl – was injured trying to flee from the area of the attack in Ashdod, and a second person – a man in his 50s - was reported injured from shrapnel in the Gan Yavneh area attack. Both were hospitalized with light to moderate injuries.
UPDATE: Three more Grad rockets hit the Ashdod area on Saturday night. One of the rockets struck a parking lot adjacent to an eight story apartment building. Officials said that there was at least one injury.

Officials in Ashdod will decide later Saturday night whether or not to hold classes Sunday, in the wake of the attacks. In any event, city officials said, classes would only be held in buildings that have anti-missile protection systems installed. Police have cancelled all events of over 500 participants. Ashdod Mayor Yechiel Lassry, speaking at the site of the school that was hit earlier, urged residents to follow instructions of the Homefront Command, and to remain safe. "We survived Operation Cast Lead, so we are used to these situations and we know how to deal with them. Residents should keep to their normal schedules as much as possible," Lassry said.

Officials in Be'ersheva are also considering postponing the first day of college at Ben Gurion University in the city, scheduled for Sunday.

Earlier, IDF forces attacked a terrorist gang in the southern Gaza Strip that was preparing to launch long-range rockets at Israeli targets. The gang was also responsible for the firing of a Grad rocket towards southern Israel this past Wednesday. Five terrorists were reported killed in the attack.

The Al-Quds Brigade terror group took responsibility for Saturday's attacks against Israel, saying that the attacks were just "the first round" of a renewed assault on Israel.

In a separate security incident Saturday night, an Israeli man in his 30s was injured in a rock throwing attack near Ariel in central Samaria. Arab terrorists hit him in the head, and he was suffering from an injury near his eyes, Magen David Adom officials said. He was taken to a hospital in Petach Tikvah for treatment, suffering from what MDA termed moderate injuries.