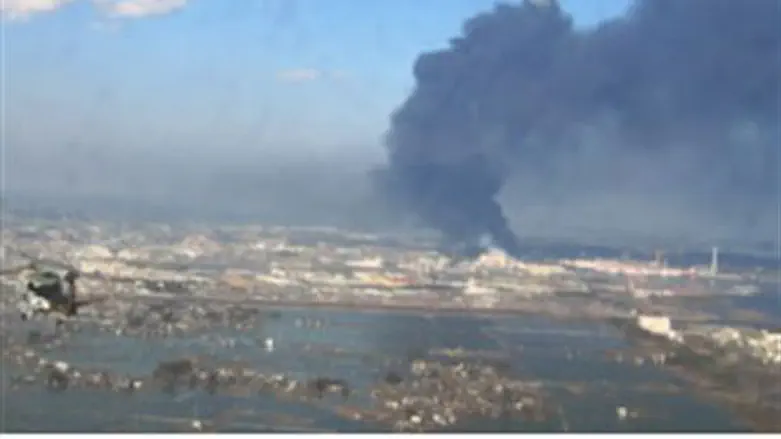 Aftermath of Japan tsunami and earthquake
Israel news photo: US Navy / archive
A moderate earthquake has struck northeastern Japan's Fukushima prefecture.
The 5.2-magnitude temblor was felt just after 2:00 a.m. local time Wednesday, and was followed later in the day by a second quake of similar strength, 5.3 on the Richter scale, off the Japanese coast about 262 miles (423 kilometers) southwest of Tokyo.
The first quake, however, struck uncomfortably close to the Fukushima Dai-ichi nuclear plant that had been badly damaged in March, when a much stronger earthquake and tsunami devastated the area. For months after, radiation contaminated the air and food around the area.
The epicenter was located near the coastal town of Iwaki, about 115 miles (186 kilometers) north of Tokyo.
The early-morning tembler hit about 70 miles (120 kilometers) south of the nuclear facility, and reportedly did no damage this time. Earthquakes are common in Japan.
Last month, four people died and two others went missing after Typhoon "Roke" slammed into the island nation. In March, the 9.2-magnitude earthquake and the 23-foot high wall of water that crashed down after it left more than 21,000 people dead and missing. A number of reactors at the Fukushima facility were sent into partial meltdowns as a result as well, leading nuclear officials to declare the disaster to be the worst since the Chernobyl meltdown in Russia.