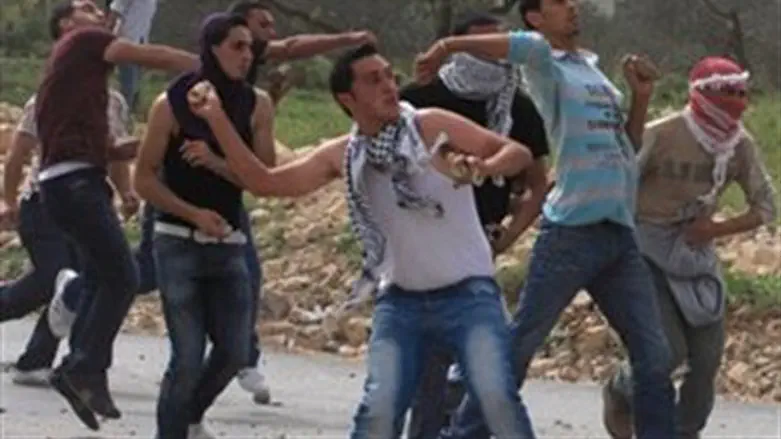 Rioters throw stones
Israel news photo: Flash 90
The IDF has decided to relieve a commander of duty after a Palestinian Authority Arab man was killed in a riot targeting the officer's troops.
The commander was removed from his position despite a report finding that soldiers acted appropriately.
The riot took place weeks ago, as Palestinian Authority Chairman Mahmoud Abbas prepared to address the United Nations. Hours before the address, a group of PA men from Kfar Qusra near Ramallah began to attack IDF soldiers nearby with rocks.
The attack followed a PA assault on the Jewish village of Esh Kodesh. PA Arabs initially blamed the attack on Jews living in the village, but later investigation showed that Jews had not approached Kfar Qusra at any point during the day.
Soldiers responded with non-violent means of riot dispersal, primarily tear gas. However, before they could drive the rioters away, a group of attackers managed to get close to three soldiers and hurl large rocks at them from a short distance.
Fearing for their lives, the soldiers opened fire, hitting and killing 34-year-old Issam Badaran. A subsequent IDF investigation found that the soldiers' lives had been in danger and their actions were justified.
Top IDF brass have previously been accused of being "out of touch" regarding the necessary use of arms in order to save IDF lives in day-to-day operations and violent incidents instigated by PA Arabs.